The original Canon EOS M6 was easy to like, but difficult to love – much like the EOS M line as a whole. With Canon's APS-C mirrorless camera range having seemingly plateaued at 24.2MP, there were only so many bells and whistles that could make the M6 feel exciting – things like 4K video, which were sadly absent.
It left the M6 with that awkward "second camera" tag; that it was good enough to be your backup, or the one you took out when pictures weren't quite as important, but it wouldn't demand your attention beyond that.
Well, you can officially throw that line of thinking out the window – both for the new Canon EOS M6 Mark II and the EOS M series as a whole.
With all the tech that comes across our desks, it takes a lot for a camera to impress us these days. The M6 Mark II, however, took us completely by surprise with what it can do, and how capably it can do it.
• Canon EOS 90D vs Canon EOS M6 Mark II: how do you choose?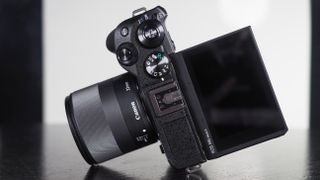 The new powerhouse 32.5MP sensor gives this camera a higher resolution than its big brother, the Canon EOS R. In fact, the M6 Mark II packs more megapixels than any Canon body save the 50MP 5DS/R – not at all bad for the supposedly humble APS-C format.
Indeed, not only does it outmuscle the EOS R in the resolution stakes, it also outperforms it in a number of other departments – not least its freakish 14 frames per second continuous shooting mode, and the fact that it can shoot 4K video without any crop factor.
Putting the two systems side by side, it actually becomes a challenge not to choose the Canon EOS M6 Mark II over its full-frame mirrorless siblings; it's a more compact camera than the Canon EOS RP, and a more capable camera than the EOS R.
While the Canon RF lens roadmap is undoubtedly better curated than the EF-M lineup, both mirrorless formats are still largely dependent on their seamless compatibility with traditional EF lenses. And, that being the case, the new M6 feels more compelling than its bigger brothers…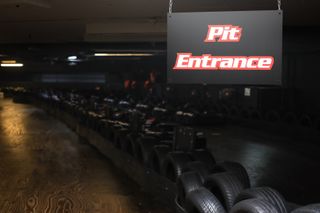 Canon EOS M6 Mark II: Specifications
Sensor: 32.5MP APS-C CMOS sensor
Image processor: Digic 8
AF points: Dual Pixel CMOS phase detect, 143 / 99 points (depending on lens)
ISO range: 100 to 25,600 (expandable to 51,200)
Max image size: 6,960 x 4,640
Viewfinder: N/A
Metering modes: Evaluative, partial, center-weighted, spot
Video: 4K UHD up to 30fps, 1080p FullHD up to 120fps
Memory card: 1x SD / SDHC / SDXC (UHS-II compatible)
LCD: 3-inch tilting touchscreen, 1.04m dots
Max burst: 14fps continuous, 30fps RAW burst mode
Connectivity: Wi-Fi, Bluetooth, USB-C, Micro HDMI
Size: 119.6 x 70.0 x 49.2 mm
Weight: 398g (body only, with battery and SD card)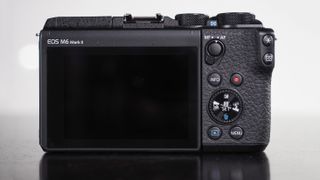 Canon EOS M6 Mark II: Build and handling
The Mark II is slightly beefier than its predecessor, which measured 112.0 x 68.0 x 44.5 mm and weighed in at 390g, but it remains a micro marvel. Even more so, in fact; for a camera this capable to be packed into a body this small is quite remarkable.
However, there's a temptation to conclude that its pocketable profile means it's only fit for being a "travel camera" or a "street camera". And yes, it is very much ideal for both of those things – but a more apt conclusion would be that the M6 Mark II is so small that it can transform the way you shoot, because you simply don't require the bulky bodied system that you always thought you did.
By once again omitting a built-in viewfinder, the Mark II retains the sleek form factor that makes it at once compact for travel, discreet for street photography, one-handable for vlogging, and that perfect Goldilocks-size that's still substantial enough for 'proper' shooting.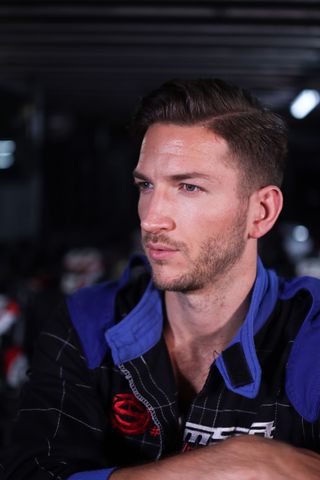 Far from being a churlish move on Canon's part, the decision to make the viewfinder an optional extra plays to the M6 Mark II's strengths. The existing EVF‑DC2 (available in a kit with the camera) can be kept in a pocket and mounted to the hotshoe as and when required – this keeps the camera pocketable and portable, in a way that the EVF pentaprism would prevent.
One of the nifiest additions to the Canon EOS M6 Mark II's exterior is the new MF / AF toggle switch, filling part of the huge space next to the rear thumb grip. Seemingly superfluous at first, it quickly becomes a valuable part of your muscle memory – particularly with lenses that don't feature their own an external MF / AF switch.
The body features an ever so slightly chunkier grip, which helps it retain balance especially when using adapted EF lenses – something that will almost definitely be required, since the EF-M mount isn't nearly as well catered for as its EF and RF counterparts.
Its magnesium alloy chassis and thermoplastic exterior feel strong and sturdy, though the M6 isn't an all-weather body and as such it's not going to take the knocks that a 5D can.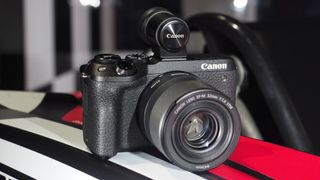 Canon EOS M6 Mark II: Performance
While the conditions for our hands-on were far from optimal, taking place in a dimly lit indoor karting track that was somewhat akin to shooting in the basement of a parking lot at night, the M6 Mark II nonetheless impressed.
The poor lighting certainly tested the ISO performance, while also putting the improved -5EV low light focusing through its paces. With the smaller sensor, noise does start to rear its head when you push beyond ISO1250, and capturing moving subjects at high speed meant that we had to exceed this by some margin.
We cranked the ISO all the way up to 6400 for some low light test shots, such as the Budweiser sign, though the circumstances under which you would have to do likewise should be fairly slim.
Despite the torrid illumination, the Canon EOS M6 Mark II's 14 frames per second continuous shooting (with continuous AF) did a stellar job of keeping up with the action, capturing the cars as they came careening around corners. In fact, in some extremely limited testing, the improved Eye AF tracking even came in useful if drivers' visors were up, as the camera was quick enough to find and follow eyeballs.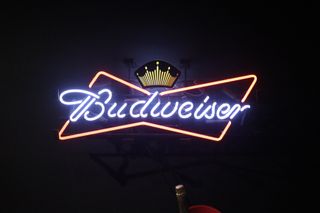 Finding focus manually is similarly smooth and simple, either tapping your focus point if shooting on the back screen or using touch-and-drag if using the EVF – a quick and capable replacement for a joystick, though obviously it's not optimal in environments where cold fingers are less apt to be registered.
While the lack of full articulation is a pity, the fact that the screen flips 180° does make it more vlogging-friendly – though the 180° display is impeded if you have something mounted on the shoe. This, and the lack of a headphone jack, makes the M6 Mark II less suited to pure video shooting than the Canon EOS 90D – an unfortunate oversight, as the smaller form factor would make this the more obvious vlogging body.
That notwithstanding, its 4K video comes up trumps. Not only is the footage uncropped, but the Dual Pixel AF is now fully functional while shooting 4K – and the camera now features clean HDMI output. Crop factors of varying severities can be introduced when using digital image stabilization, which is certainly effective but obviously eats into your composition.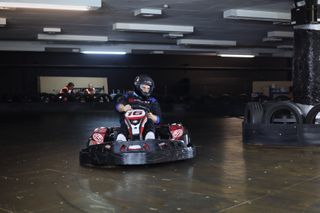 Canon EOS M6 Mark II: Early verdict
Since we were using production cameras, there's no reason to think anything significant is going to change – and from our hands-on review, we feel safe in saying that the Canon EOS M6 Mark II has given new life to the previously flagging EOS M line.
We'd even go one step further and offer that the M6 Mark II might be the best mirrorless camera that Canon has yet released. Yes, it lacks the larger sensor and more robust offering of native lenses, but in almost all other respects it is operationally superior to both the EOS R and RP. More megapixels, higher frame-rate, uncropped 4K video… in many respects, this is the camera that its older brothers should have been.
With a faster continuous mode than the Canon EOS 90D, it's arguably a more adept action camera for subjects such as wildlife and sports than its new sibling – though the 90D, somewhat bafflingly, possesses the extra tricks (the articulating screen and headphone output) that make it more capable for video.
The Canon EOS M6 Mark II is a ferocious little performer. A true jack of all trades, but not in a pejorative sense – this camera pumps out high quality pictures and captures crispy 4K video, both of which are worthy of far pricier bodies.
Read more:
Canon EOS 90D review
Canon EOS R review
The best Canon camera in 2019: from DSLR to mirrorless to PowerShot and Ixus