The DJI Mavic 2 Pro is a folding drone which was one of the first to make the quality available from a 1-inch sensor portable and practical. Not only will photographers appreciate the Hasselblad-branded camera, but the airframe has collision sensors in every direction making it a very practical choice
The drone launched alongside another built with the same fuselage but a different camera, the DJI Mavic 2 Zoom, and between them they secure DJI's position as the makers of the best drones on the market. They also give customers a difficult choice: do you want the 20-megapixel camera or the optical zoom?
Starting with the similarities, the Mavic 2 drones are both built on a handsome and solid grey fuselage with sprung fold-out arms. The front features two 'eyes' which give the drone's A.I. binocular vision which, in turn, is used to prevent crashes (and assist focusing).
There are similar cameras on the underside and rear, while the sides are equipped with single cameras and the top has distance sensors. It's fair to argue this isn't truly "omnidirectional," but in practice the collision protection is balanced toward the directions it is most needed in. The only slight reservation I would offer is this: When you follow a subject from the side, one of the drone's side-mounted sensors will, theoretically, prevent a collision as you're flying sideways. In practice, those sensors have a quarter the range of those on the front and is only used in some flight modes (but remain more useful than none).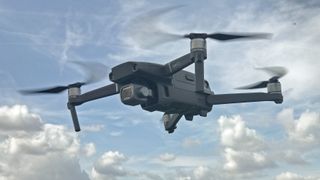 The airframe also sports covers for the USB-C, MicroSD card and reset buttons, dual LED lights which not only look cool but assist the vision system when hovering or landing.
The camera that sets the Mavic 2 Pro apart is the 1-inch 20-megapixel Hasselblad and while the branding should be taken with a pinch of salt (DJI own's a majority shareholding of Hasselblad), the 10-bit recording and adjustable aperture (ƒ/2.8 to ƒ/11), and RAW mode has a lot to offer photographers.
The Mavic 2 Pro weighs in at 907g (2g more than the Zoom), and is accompanied with a controller which can be compared in size to a console joypad, though it sports removable thumb-sticks and a flight data screen. You'll still need to plug in your phone to get the live view from the drone's camera, and DJI's app also provides read outs, so it's not as useful as the Autel EVO II's controller in that regard.
Kit options
The Mavic 2 was launched in late 2018, and since then DJI have added to the range using the same basic design but trimming size, features and price. The only clue to the timeline is the quick-release propellers; if you buy one of DJI's newer models you are forced to use screw-on propellers not because they're better but because DJI are engaged in a patent dispute. Otherwise, this still feels like top dog in the range.
DJI sells the drone at a starting price of $1,599 / £1,349 / AU$2,499 which gets you the drone, one battery, a charger and the controller.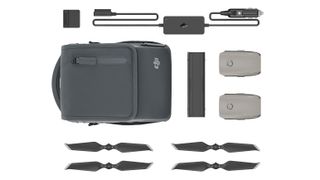 A better option, if you can afford it, is the "Fly More" bundle, which includes two additional batteries, a car-charger, a charging hub, a battery to power-bank adaptor, more spare propellers, and an immensely impressive shoulder bag. A charging hub charges your batteries in sequence without you needing to be there to switch them over.
Sadly you can't buy one Mavic 2 and both cameras, but the batteries, which offer a generous 31 minutes of flight time, are interchangeable (because the drone itself is the same), so it's possible, at least, to cut some costs if you want both cameras.
In operation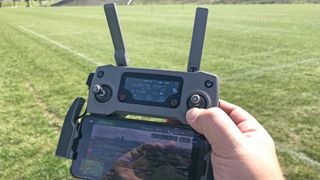 The basic design of the Mavic comes from the original 2016 Mavic, and remains the basis of the latest models; it's easy to fold out to its full 354mm span (motor to motor), sturdy, and portable. It is important to use a flat landing surface as the legs are short, especially at the back, so take-off or landing from grass isn't propellor friendly.
Control is straightforward and DJI's accompanying app, DJI Go 4, offers useful tips for non-pilots, so expect to get up to speed fast. On the subject of speed, there are three modes, including "Sport" in which the drone can fly along at up to 72 kph (45mph). As a photographer the lower speed options are more practical, and when flying slowly at an altitude of 11m/36ft or less the downward-facing vision system provides surprisingly stable hovering – within 10cm according to DJI and I don't doubt it
Images and video are recorded to a MicroSD card or a built-in 8GB memory – not a lot but useful in emergencies. You can download them to your phone via the App (unless you opted to shoot in H265) to review in the field, transfer via a USB-C cable, or read the MicroSD card traditionally. Occasional software updates are also handled by the app, and one tip from experience is to make sure you've done this the night before you fly – if you start the process in the field it can take time; time while the light changes and the battery ticks down.
Taking Photos on the Mavic 2 Pro
The Mavic 2 Pro's camera captures 5472 x 3648 pixel stills with that 1-inch CMOS. That's more than 4-times the surface area of the Mavic 2 Zoom's sensor, meaning it has no problem getting an additional two stops of ISO (up to 12,800). This and having software access to an adjustable aperture means the manual mode feels more useful to a photographer than on most consumer drones.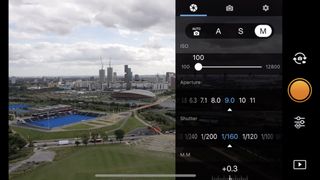 The camera shoots 16-bit RAW stills, but if you choose JPEG these can be rendered using a Hasselblad Natural Color Selection (HNCS) profile. It's fair to say that HNCS does a great job on aerial shots (edging to the warmer end of the scale), and many may find themselves saving time by choosing to choose it over their own RAW processing.
In the situations I tested it, the Mavic 2 Pro consistently produced richly detailed images which stood up to a good deal of enlargement. The dynamic range is clearly superior to its sibling, while the Pro is blessed with all but one of the Zoom's photo features – Super Resolution mode – which is a dependent on the Zoom lens. Otherwise Burst, Exposure Bracketing, and Interval Shooting are all there.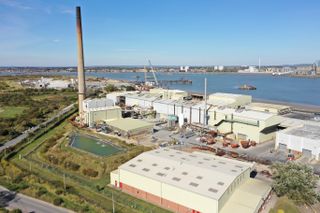 While I don't think it's really a complaint, it's fair to say that you do need to either trust the autofocus or remember to keep taping to focus. (the live view isn't full resolution, but there is a focus peaking option).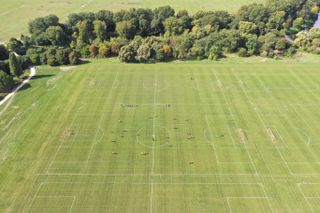 The drone must also be given credit for its smart panorama modes which take the strain out of enormous stitched images, and the night mode which effectively achieves automatic stacked shots. Otherwise shooting at night tends to produce some green patches, which benefit from a Raw workflow to clean up.
Video with the Mavic 2 Pro
DJI Mavic 2 Pro - sample video
The Normal mode is the only option if you're not using a 10-bit profile and grading your video.
The Mavic 2 Pro's spec sheet have plenty of filmmakers salivating, not least the 4K video shot at 10-bit, HDR support (and Dlog-M output for grading). It's fair to say that, if you're looking for video at 30fps – or can tolerate the drop to 2.7K for 60fps – then the Mavic 2 Pro is an excellent choice.
If you're looking for the magic of 4K 60fps to create smooth slow-mo, the slightly more recent Mavic 2 Air – effectively a trimmed down version of this drone – might be more accessibly priced and (arguably) has even more pixels, but only here do you have the luxury of that large sensor.
For experienced filmmakers, working with 10-bit (which also means processor-intensive H.265) won't be an issue, but for the average consumer the process starts with a very flat looking file which cannot be processed on your phone. That leaves you with Normal mode as an alternative. Tilting shots also expose some barrel distortion which might need correcting.
The drone is also fully equipped with an extensive range of automatic shots (DJI's QuickShots), which hand over control of the drone and camera and produce great one-off shots while using A.I. to track a subject (possibly you). The same systems can also track subjects to help you pull off longer shots that might have been impossible before without a separate camera operator. All these technologies are well-implemented, making them easy to use, but it's fair to say that they're also there in this drone's cheaper sibling, and some of them can even be found in the much cheaper DJI Mini 2.
A few users (mostly those looking for attention on social media) have complained that in full-sensor view mode, some form of pixel-binning results in imperfect images, though I didn't see and issues myself.
DJI Mavic 2 Pro: Verdict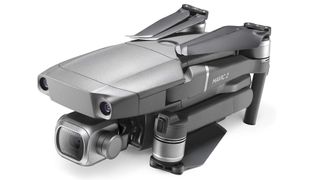 This is an excellent drone, built on a strong platform which will be your friend for a long time as a professional operator. The relative quiet of the propellors, the long flight times and the steadiness of the hover and tripod mode are great, while the all-round sensors are also reassuring when content – not flying – is your priority.
The only serious note of caution is that, unless you have good reason for the 10-bit video (and all the extra editing load that entails), then DJI themselves seem to offer a number of cheaper alternatives (see Best DJI drones) which – in most lighting conditions – are actually more practical or (in the case of the Mavic 2 Zoom) have even more features. Prosumers, especially with a leaning toward stills, will still end up very happy.