PaintShop Pro 2022 is the latest version of a program that has a long-standing history as a Windows-based PC image editing program. The 2022 version is less of an upgrade than 2021, but still provides enough new features to potentially entice users requiring specific functionality to upgrade.
The software is an all-in-one solution for beginners to more advanced users, with different workspaces aimed at different levels of editing ability and for accessing different types of functionality. This is a unique approach to image editing software and one that provides the ability for the software to grow with you as you move from absolute beginner to more advanced levels where you require all available features with full manual control over image editing.
PaintShop Pro is, for this reason, like having Photoshop Elements, Photoshop CC and a touch-controlled image editor rolled into a single program. Plus, with the Ultimate version, you get additional software that brings a huge amount of creative potential to your photography and video.
PaintShop Pro 2022 is available with a perpetual license for a suggested price of $79.99/£69.99. The SRP for PaintShop Pro 2022 Ultimate is $99.99/£89.99, and this version also includes the Sea-to-Sky Workspace, Painter Essentials 8, PhotoMirage Express, AfterShot 3, Highlight Reel, MultiCam Capture Lite and the Corel Creative Collection making it a bundle that's perfect for content creators as well as enthusiasts.
Key features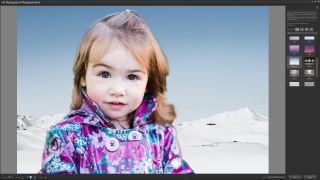 With software that's updated annually, new features can sometimes be lacking but this is far from the case with PaintShop Pro 2022, with the inclusion of MultiCam Capture Lite and The Corel Creative Collection, alongside some clever portrait orientated features, but more on those later. And while there are both the standard and Ultimate versions available, the amount of extra software and add-ons you receive in this version for a minimal increase in price makes it the best option by far.
In a nutshell, the additional software includes the Sea-to-Sky Workspace which is aimed at processing drone and underwater photography, Painter Essentials 8, which is for drawing, painting and sketching digitally, PhotoMirage Express for creating animated photos, AfterShot 3 for Raw processing, Highlight Reel for AI-powered movie and slideshow editing, while MultiCam Capture Lite allows you to capture your computer screen while recording audio or record from connected cameras. Finally, the Corel Creative Collection is a set of additional brushes, textures and over 100 royalty-free backgrounds.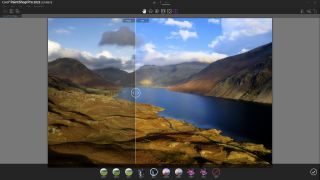 This is quite a remarkable suite of creative software, that has been updated in this latest version of PaintShop Pro Ultimate. Most of these additional software options are external to PaintShop Pro as they're standalone programs with only Sea-to-Sky and The Corel Creative Collection being part of Paintshop Pro and accessed from within it.
Notable new features include the Frame Tool for quickly and easily placing raster objects into shapes, AI Background Replacement that can detect people in scenes and makes replacing background quick and easy, AI Portrait mode for applying bokeh to the background in portraits, AI Style transfer for applying different styles to images has been updated, more brushes and colour palettes have been added to the software and Apple HEIC and HEIF image files are now supported.
Interface and usability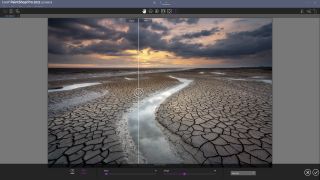 The interface remains almost identical to the previous release, with the Welcome page providing access to the various workspaces aimed at different types of editing and user experience of editing. From here, you can also access tutorial videos to help you get started with different aspects of the software as well as the store where you can purchase other software, templates and bundles.
The interface is broken down into Photography, Essentials, Complete and the Sea-to-Sky workspaces. To select one of these simply click on the workspace name and click on Apply to load the selected workspace. It would be better if simply clicking on the relevant name changed the workspace since clicking Apply feels superfluous, but it's one of those things most people won't have feelings on one way or the other. You can also move from one workspace to another and keep the image(s) you're working on open.
The Photography Workspace is designed for quickly and easily applying a range of effects at the touch of a button, and includes most of the AI features available in the software. This section is also touch-compatible, so if you have a touch-enabled monitor or laptop you can enjoy a more tactile approach to editing, albeit one that centres more around one-click effects than more manual editing tasks.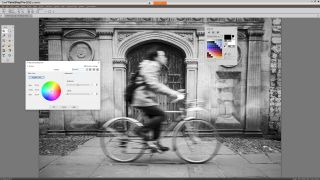 The Essentials Workspace is similar to Photoshop Elements, in that it provides a simplified version of the Complete Workspace, while the Complete Workspace is the fully-featured and most advanced version of the software with full manual tools as well as many automated functions and AI-powered tools. This workspace looks most like a traditional image editor such as Adobe Photoshop or Affinity Photo. The Sea-to-Sky workspace is also touch-compatible and provides one-click edits aimed at aerial and underwater photography.
The approach Corel has taken here is innovative and provides room for beginners to grow. Although more advanced users shouldn't be put off because the Complete workspace is a powerful image editor that allows you to perform a wide range of advanced adjustments and you could simply ignore the other workspaces if you didn't require them.
Quality of results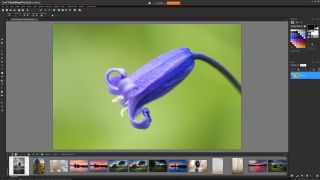 The results of different features of the software vary, with some of the AI-powered and automated edits not always performing as well as you'd hope. However, this can depend on the image being edited and the features themselves so it's worth experimenting to see what works for you and your photography.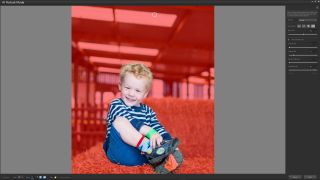 The new AI Portrait mode in the Complete workspace works reasonably well to identify people in the scene, but you nearly always have to adjust the mask manually. The AI does make this easier than traditional masking since the mask snaps to edges, although there can be bleeding onto the model in the image so you have to take great care when adding, subtracting and refining the mask. Get the edges spot on, though, and the bokeh effect looks good at lower blur levels with several sliders and a choice of aperture shapes to customise the look.
AI Background Replacement is as effective and the masking involved works in the same way as AI Portrait mode, but rather than blurring the background you can apply a new one from a selection of preset backgrounds, load one of your own images or opt for a transparent background. You can use this feature to cut any subject out from an image, or indeed use AI Portrait to blur the background in any image despite the names being targeted towards portraits.
The best image quality and results naturally come from editing within the Essentials and Complete workspaces where you have the highest levels of control, although the Complete workspace has the edge because this is the most fully-featured part of the software with the tools, adjustments and features more advanced users would expect.
Verdict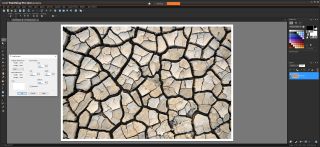 Paintshop Pro 2022 Ultimate is easily the best version of the software to date and builds on the impressive features introduced in the previous release. 2021 arguably saw more updates than this version, so it may be worth waiting for the 2023 version to upgrade if you're using 2021, unless you need the capabilities of MultiCam Capture Lite or compatibility with Apple image file formats etc. If you're running an older version than 2021 or are new to PaintShop Pro, you certainly won't be disappointed with PaintShop Pro 2022 Ultimate.
While the number of new features is reduced from the 2021 version of the software, the new portrait effects can work well if you're prepared to spend a little time adjusting the AI applied masks. Plus, these features can be used with any image to achieve the result they're designed for so if you don't shoot portraits but like the idea of cutting objects out, changing background and applying bokeh to your shots, then these features have lots more scope than their names suggest.
PaintShop Pro 2022 Ultimate is available with a perpetual license for a suggested price of $99.99/£89.99, and this version also includes the Sea-to-Sky Workspace, Painter Essentials 8, PhotoMirage Express, AfterShot 3, Highlight Reel, MultiCam Capture Lite and The Corel Creative Collection, which is a huge amount of software and functionality for the price. A free 30-day trial is available so you can check out all the new and old features before you buy.
Read more:
• Best photo editing software
• Best laptops for photo editing
• Best monitors for photo editing
• Best external hard drives