Photography can very much be a pay-to-play hobby (and profession!), with each individual piece of kit easily costing you thousands of your hard-earned pounds or dollars. However, one of the things that can help save you a bit of cash is stepping outside of your chosen camera's ecosystem and looking at third party manufacturers. For example, the Sigma 24-70mm DG DN Art for Sony E lens is available for pre-order for half the price of its rival own-brand Sony 24-70mm.
Sitting pretty at $1,099, the Sigma 24-70mm f/2.8 DG DN Art is the perfect example of why you shouldn't just automatically reach for your camera manufacturer's own lenses.
• Read more: Best Sony lenses
As website Mirrorless Rumors states, "At nearly 50% of the Sony GM price, you get the same specs, a slightly smaller lens and I bet image quality will be on par too. The only real strong point of the Sony lens will be the better AF performance, but that's about it."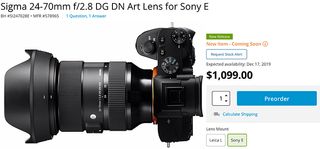 The Sony FE 24-70mm f/2.8 GM Lens is currently available for $2,198 from B&H Photo, which makes it exactly twice the price of Sigma's $1,099 version. However, while the Sony's minimum focus distance is 38cm, the Sigma's is a mere 18cm - making it a much more attractive option for photographers who like to know they have the option of getting up close to their subject.
Plus, the Sigma lens is just over 50g lighter than its Sony counterpart - and half an inch shorter as well. While this might not seem like much difference, if you're carrying a lens around for an eight hour shoot we bet you'll feel that 50g difference by the end of the day.
With the Sigma 24-70mm f/2.8 DG DN Art lens due to be officially released in mid-December, we bet it'll be right at the top of many Sony photographers' Christmas list.
Read more
Best Sony A9 deals in November 2019
Best lens for portraits: best 85mm lenses in 2019
Best 150-600mm lenses: great super-telephoto zooms to get close to the action