Winter is coming! The temperatures are dropping in many parts of the country and, in some encouraging news, the trans-Tasman travel bubble has opened.
So if you're planning on a snowy holiday with a camera this winter, you won't want to miss the latest issue of Australian Camera, available on shelves now!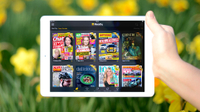 INSIDE THE MAY/JUNE 2021 ISSUE
Tasty! Nikon adds extra zest to the Z 6II
Nikon has addressed the complaints made about its first-generation full-frame mirrorless cameras, but are those improvements enough? Find out in our in-depth review of the Nikon Z 6II.
Winter wonderlands: tips for successful shooting in snowy landscapes
Ready for a winter holiday? Australia's own alps – the aptly named Snowy Mountains – offer more than just ski resorts. So get some advice on how to prepare for photography in the snow and ice to ensure you get some great pictures.
How a winning pic in Australian Camera changed a photographer's life
It began with proving the existence of two white emus. Aussie photographer John Walker narrates how he found the impetus to carry on experimenting with his photography after having one of his images featured in Australian Camera magazine.
110 – the small film format that was a very big hit
It sold millions over two decades, then film photography got replaced by digital. But the 110 film format was reintroduced a few years ago, proving there's still life in that format.
Also in this issue
Need new photography accessories? We take a deep dive into how Canon's new RF 85mm f/2 Macro IS STM lens performs, and also find out how a Benro tripod and ball head holds up its part of the bargain on photography expeditions. If it's a home photo printer you're after, we've put an Epson SureColor to the test.
Plus lots more
Get some inspiration from the winning images of the 2021 Sony World Photography Awards' Open category, and find out how Leica's new SL2-S full-framer holds up against the competition.
Subscribe to the print edition
Published since 1979, Australian Camera is the country's premier photography magazine for enthusiasts and hobbyists and, since 2010, has been a member of the prestigious Technical Image Press Association (TIPA) – a global group of photography magazines selected for their high standards of content, production and independence.
The magazine is published six times a year (or bi-monthly), with the subscription also including an annual special issue called the Australian Camera Handbook. This offers a look into the year's most popular reviews and includes exclusive new content as well.
If this sounds like something that will keep your creative juices flowing, then print subscriptions are available from Future Australia's dedicated Techmags website.

Get the digital edition today
Australian Camera's print edition is available at all good newsagents Australia-wide, but for the ultimate in convenience, it's also available for immediate download in digital format from Zinio, providing instant access on your phone, tablet or PC.
You can purchase single issues individually, or subscribe for a full year and automatically receive every issue as it's released. For more details, simply click on the Zinio logo below.