If you love exotic and esoteric kit, then this was certainly the camera news week for you! In addition to the usual leaks and rumors, we were greeted with a pair of wonderfully unusual bodies.
The first isn't actually a new one, but a highly specialized body from Canon that has a whopping 4 MILLION ISO – which is so impressive that it was honored with a Hollywood award. The second definitely is new, after a fashion – it's a vintage-bodied instant camera, and no doubt the most unusual camera you'll see in 2020!
On top of that there are three leaked Canon cameras – two mirrorless successors to the Canon EOS R – along with full specifications for a leaked Fujifilm camera that's set to be announced soon.
So, brew a coffee and enjoy the five biggest camera news stories of the week…

Canon's 4 million ISO (!!!) camera wins an Emmy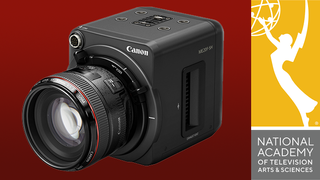 Think your camera has pretty good ISO performance? Trust us, it's nothing compared to the Canon ME20F-SH with its ISO sensitivity in excess of 4 million – a technical feat so impressive that the camera will be honored by Hollywood with a prestigious Emmy Award.
The Technology & Engineering Emmy honors "development and innovation in broadcast technology and recognizes companies, organizations and individuals for breakthroughs in technology that have a significant effect on television engineering."
The ME20F-SH is certainly deserving of the title, with its ISO in excess of 4 million (+75dB) enabling it to shoot in almost complete darkness at less than 0.0005 lux. Its enhanced full-frame CMOS sensor produces 1080p video even when a night sky is lit solely by starlight – making it the tool of choice for such broadcasts as National Geographic's celebrated Earth Live program, which documented nocturnal wildlife…
Read more: Canon's 4 million ISO (!!!) camera wins an Emmy Award

Wooden instant camera with brass and bellows!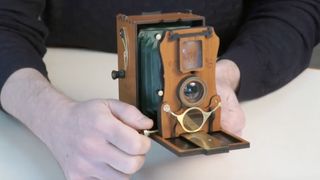 We have seen some unusual instant cameras in the last couple of years, but the JollyLook Auto is undoubtedly the weirdest – and has the weirdest name. The Ukrainian designers have set out to make a camera that looks like a retro mahogany and brass bellows camera – but one that shoots on Fujifilm instax film.
The result is a camera that look seriously old-fashioned, but spits out the ultra trendy instax Mini prints. Its just the thing for a steampunk party! The camera has just launched on Kickstarter, and the project is already fully funded. So, that those who pledge into the crowdfunder should be able to get their cameras by November – so just in time for Thanksgiving and Christmas.
The JollyLook Auto gives you more control over the picture taking-process than most instant cameras, with a focusing rail to extend the bellows, and a choice of aperture settings. Once shot, the film is ejected manually using a crank handle on the side of the camera…
Read more: JollyLook Auto may be the weirdest camera you will see this year

Canon EOS R5 and R6 – next-level EOS R cameras!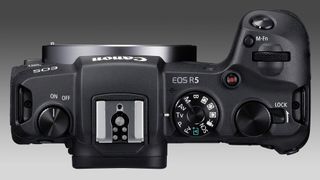 A set of eyebrow-raising specs have leaked for the Canon EOS R5 – Canon's next full-frame mirrorless camera, previously dubbed the Canon EOS RS (perhaps due to misreading the model name), which will apparently begin shipping in July.
The leaks suggest a powerful system with a 45MP sensor, 5-axis in-body stabilization, up to 8 stops of stabilization when coupled with lens IS, 8K video at 30fps and 4K up to 120fps, and continuous shooting at 12fps mechanical and 20fps electronic.
And that's not all; also leaked is the Canon EOS R6, a junior model that reportedly maintains the image stabilization and continuous shooting speeds, but features a 20MP sensor and 4K video that maxes out at 60fps…
Read more:
Canon EOS R5 leaked: 45MP, IBIS, 8K30, 20fps e-shutter, February reveal
Canon rumored to release Canon EOS R6: a 20MP mirrorless marvel

Fujifilm X100V full specifications leak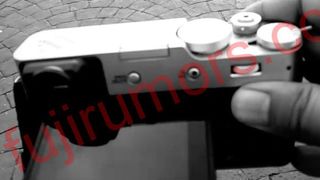 A full specifications sheet for the Fujifilm X100V has been leaked online, ahead of the expected reveal on 04 February at the Fujifilm X Summit.
The Fujifilm X100V will, according to the leaked information, boast a 26MP sensor, continuous shooting of 11fps mechanical / 20fps electronic shutter, standard ISO of 160-12,800, 4K 30fps and 1080p 120fps, and a tilting LCD – all improvements on the 24MP Fujifilm X100F.
And, to answer the question raised by the first leaked image of the new body, no – the camera does not have a D-pad. Here are the full leaked specifications for the Fujifilm X100V…
Read more: Fujifilm X100V full specs leak ahead of reveal on 04 February

Canon EOS 850D / Canon Rebel T8i leaked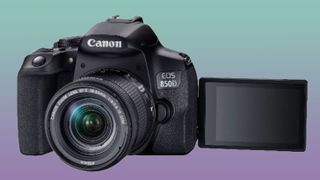 Images and specifications of the upcoming Canon EOS 850D (global name) / Canon Rebel T8i (North American moniker) have been leaked, showing us an intriguing glimpse into Canon's next APS-C DSLR – a follow-up to the Canon EOS 800D / Canon Rebel T7i.
So, will the 850D / T8i improve on its predecessor's technical prowess and build? The new camera will reportedly have a 24.1MP sensor, which is actually a very slight step back from the 800D's 24.2MP sensor. However, the 850D will have a DIGIC 8 processor, compared with the 800D's DIGIC 7.
The upcoming camera will have all-cross 45-point AF and Dual Pixel CMOS AF. Plus, in contrast to the 800D, this upcoming DSLR will be able to shoot 4K video at 30p without cropping. The 850D / T8i will also offer continuous shooting at about 7fps (7.5fps in Live View)…
Read: Canon EOS 850D / Canon Rebel T8i images and specs leaked!

Latest buying guides:
The best portable printer for photos in 2020: for smartphones, laptops and more
The best microphone for vlogging and filmmaking in 2020
The best lenses for iPhone and Android phones in 2020: add on phone lenses