If you're a keen photographer or filmmaker that loves compact, but powerful cameras then some of the best Fujifilm cameras might have tempted you over to the system with the impressive flagship model, the Fujifilm X-H2 with its 40MP APS-C sensor and 8K video recording, or the slight, but powerful Fujifilm X-T5 with its 40.2MP X-trans CMOS that proving very popular for street photography.
Cameras certainly do most of the 'work' when capturing your next masterpiece however, we all know that lenses can be used to make a great impact on the way our images or videos can look, for example, a telephoto can give you the advantage while out taking photos of wildlife or a wide angle can give you dramatic close-ups while using a wide-angle lens.
So what do photographers actually buy? New York photo megastore B&H Photo Video has shared with us this list of the ten most popular Fujifilm lenses it sold in 2022. Here is the rundown…
This is a pretty compact and lightweight lens for a wide-angle f/1.4, and boasts a really neat design and an everyday 62mm filter mount. The optical performance is stellar, even wide open, though there is already a 16mm f/1.4 in the Fujinon lens range, so it feels as if this lens is squeezing into a gap that isn't quite there.
There's no image stabilization, which we wouldn't expect in a fast prime anyway, but there is an annoying 'clonking' sound from what we think is the AF actuator when the lens is removed from the camera and its AF system is not being powered.
Read our full Fujinon XF18mmF1.4 R LM WR review for more details
This top-drawer 'red badge' lens is Fujifilm's answer to pro-grade 24-70mm f/2.8 lenses for full-frame DSLRs. The Fujifilm XF16-55mm f/2.8 R LM WR actually beats them for zoom range, with an 'effective' 24-84mm focal length, and has a similarly robust, weather-resistant construction.
Performance is fabulous in all respects, with super-fast and highly accurate autofocus enabled by a twin linear motor, plus a feast of glassware that includes three aspherical elements and three ED (Extra-low Dispersion) elements.
Sharpness and contrast are spectacular, bokeh is beautiful and there's excellent resistance to ghosting and flare, thanks to dual conventional and nano-structure coatings. The only real minus points are that there's no image stabilization, and the lens is relatively heavy for an X-mount standard zoom.

Read our full Fujifilm XF16-55mm f/2.8 R LM WR review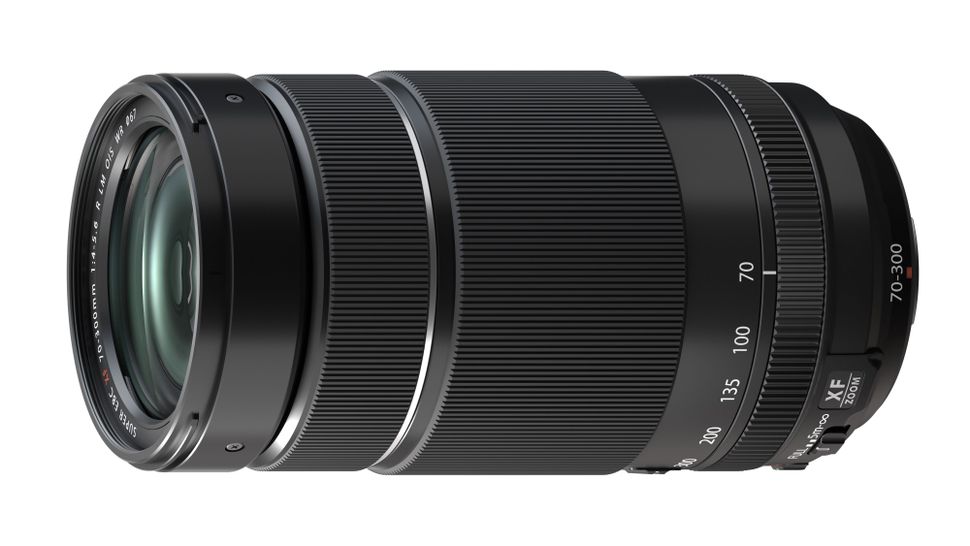 If your budget (and your biceps) can't stretch to the pro-level 70-200mm f/2.8, the Fujinon XF 70-300mm f4-5.6 R LM OIS WR will give both an easier time, and also offers much more reach for distant subjects like wildlife.
While it is an enthusiast lens, this 70-300mm is far from a budget performer. It blends portability with excellent range and superior sharpness. When paired with the compatible XF 2x TC WR teleconverter you get a 914mm f/11 lens, which provides excellent value.
Read our full Fujinon XF 70-300mm f4-5.6 R LM OIS WR review
Fujifilm's other great street lens, the XF23mm f2 R WR is much more affordable than its f/1.4 cousin, not to mention lighter. If you can deal with being restricted to f/2, and not having that low-light and bokeh-licious flexibility, this is a great lens.
As is common with Fujifilm lenses, the image quality you get for your money really is impressive here. Autofocus too is very fast, in both video and stills, thanks to the stepping motor.
For carrying around town, this lightweight and weather-sealed lens is an excellent choice. It feels great to use, too, with a metallic build and tactile aperture ring.
Read our full Fujinon XF23mm f2 R WR review
The Fujinon XF33mmF1.4 R LM WR expands Fujinon's sub-range of fast f/1.4 primes. Its 33mm focal length may seem a little unusual, but as Fujifilm's X-mount cameras have APS-C sensors, the XF33mm F1.4 actually has an effective focal length of 50mm, in full-frame terms.
For an APS-C 50mm-equivalent lens, this one is comparatively large – but that's a small price to pay for fast linear motor autofocus, an f/1.4 maximum aperture and superb optical performance.
The Fujinon XF33mmF1.4 R LM WR also has a physical aperture ring, working perfectly with the external shutter speed dials on cameras like the X-T30 II, X-Pro3 and X-T4 to provide classic external exposure controls for more advanced photographers and those who just like to shoot the old way!
Read our full Fujinon XF33mm F1.4 R LM WR review
We're big fans of the original Fujinon XF27mm lens, which was extremely slim and yet delivered extremely good edge to edge sharpness. This new one meets the same high standards but adds weather proofing and, even better, a physical aperture ring.
It's a great lens in its own right and even better as a kit lens for the X-E4. Fujifilm's promise of a fast and silent AF motor didn't seem borne out by our lens, though, which was quick enough but noisy by modern standards.
Never mind that, though, because if you're looking for a lens that's small enough to go in your pocket and sharp enough to blow you away, then this is it!
Read our full Fujinon XF27mmF2.8 R WR review
The focal length and aperture rating of this lens is equivalent to using an 85mm f/1.2 lens on a full-frame camera. It's an ideal combination for portraiture, enabling you to maintain a natural shooting distance from your subject, while also blurring the background with a tight depth of field.
Even so, the depth of field isn't as tight as when using a lens with an 'actual' rather than 'effective' 85mm focal length. This lens fights back with a nanotechnology-engineered 'apodization' filter.
This special element in the lens's optical path smooths the outlines of shapes in defocused areas, making the bokeh look more soft and creamy. However, you have to pay a hefty price for the added attraction, as the non-APD version of the lens only costs about two-thirds as much.
Read our full Fujinon XF56mm F1.2 R APD review
The Fujinon XF30mm f/2.8 R LM WR Macro lens is Fujifilm's newest lens for its X-mount cameras. With the APS-C format crop factor of 1.5x, its standard 30mm focal length is equivalent to 46mm on a full-frame camera, and the 1:1 macro magnification ratio is equivalent to 1.5x.
Image quality is good, autofocus is snappy and silent, and the lightweight build and price will make it appeal to plenty of hobbyist nature and product photographers. Not just a macro lens, this could be a great standard walkabout lens too.
Read our Hands on: Fujifilm XF30mm f/2.8 R LM WR Macro review
Fujifilm really does do premium prime lenses very well indeed. The Fujinon XF23mmF1.4 R LM WR is a gorgeous lens, delivering exceptional image quality and lightning-fast autofocus – basically everything you could want from this kind of standard, street-friendly prime (its equivalent focal length works out to a naturalistic-feeling 35mm). It has a lovely aperture ring for that manual, immersive feel, and its design is weatherproof and dustproof.
It is heaver than the average 35mm equivalent prime though, and we do have to take umbrage with the decision to remove the focus distance scale and depth of field index markers that were on the previous version of the lens. What gives, Fujifilm?!
Read our full Fujifilm XF23mm F1.4 R LM WR review
Achieving the perfect balance between size and performance, the XF 35mm f/2 R WR is an elegant normal-length prime featuring a compact profile and apt image quality. Two aspherical elements are used in the optical design to reduce distortion and spherical aberrations in order to produce greater sharpness and accurate rendering.
Hopefully, this list would have helped you in some way to make your purchase of some of the best Fujifilm lenses on the market today. If this has been of interest why not take a look at what we think are the best cameras for portrait photography, best cameras for wildlife or if filmmaking is how you make your bread and butter, why not take a look at the best 6K and 8K cameras.