The Fujinon XF18mmF1.4 R LM WR is the 39th interchangeable lens from Fujifilm, so the company has come a long way in a comparatively short time. This lens the four addition to a small sub-range of fast f/1.4 primes, from a 16mm f/1.4, the widest, through to a 35mm f/1.4, the longest.
The new lens is only 2mm longer in focal length than the existing XF16mmF1.4, but there is more to this than just focal length, given that the 16mm lens is now six years old, does not have the linear motor (LM) AF of the new 18mm, and has a different optical configuration.
The Fujinon XF18mmF1.4 R LM WR is close in specifications to the older
Fujinon XF16mmF1.4, but is a more modern and efficient design.
Specifications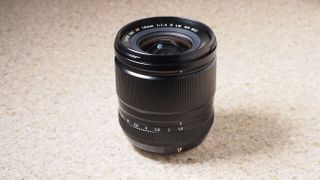 Construction: 15 elements in 9 groups, including 3 aspherical and 1 ED element
Focal length: 18mm (27mm equivalent)
Angle of view: 76.5°"
Max. aperture: F1.4
Min aperture: F16"
Aperture blades: 9 (rounded diaphragm opening)
Minimum Object Distance: 0.2m
Max. magnification: 0.15x
Dimensions: 68.8mm x 75.6mm

Weight: 370g

Filter size: 62mm
Key features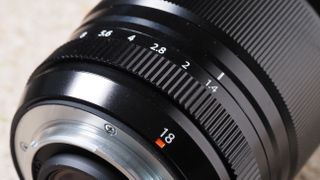 Fujifilm has designed this lens to be compact and light while maintaining first rate optical performance. The optical path consists of 15 elements in 9 groups, which is pretty sophisticated for a prime lens, and includes three aspherical elements and one ED element (the older 16mm f/1.4 is slightly simpler with 13 elements in 11 groups, two aspherical elements and two ED elements).
With a length of 75.6mm and a weight of 370g, the Fujinon XF18mmF1.4 R LM WR is pretty light and compact for such fast wide-angle lens, and this is where the smaller APS-C format does have an advantage over full frame systems – though you will not get the same degree of background blur and separation that you would from a full frame f/1.4.
The LM in the name refers to the use of a linear motor for AF actuation. These are fast, powerful and near-silent, so this lens should be ideal both for stills and video.
The linear motor drives a focus group of six lens elements with a total travel of just 2.5mm – Fujifilm says this combination means the lens can move from its closest focus distance to infinity in just 2.5sec, and that autofocus speeds can be as fast as 0.04sec.
The new lens is also weatherproofed (hence the 'WR' in the name), with a metal barrel and weather seals in 8 locations. It's also designed to work in temperatures as low as -10 Centigrade.
Like most (but not all) Fujinon lenses, this one has a physical aperture ring, with a push-button lock on the 'A' setting. It's the idea companion for X-series cameras with shutter speed dials rather than mode dials, but will of course work fine on any X-mount camera.
Build and handling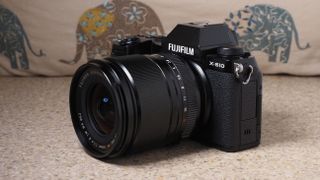 The Fujinon XF18mmF1.4 R LM WR's comparatively light weight and compact design is welcome, given that most of Fujifilm's X-series cameras are themselves pretty small. It handles pretty well on the X-S10, for example, and on the new X-E4.
The design is so straightforward that there is not much to comment on. There's no focus distance scale or depth of field markings, but these can be displayed in the camera viewfinder. The aperture ring is clear and positive – and the huge range of apertures available is a reminder of the advantage and scope of fast prime lenses over regular zooms!
However, there is a heavy knocking sound inside this lens when the camera is switched off or the lens is removed. We noticed this in our pre-production sample and it's present in our production sample too. This disappears when the lens was fitted to a camera and the camera was switched on. It didn't seem to affect performance and it seems likely that this might be the internal AF group not being 'parked' when it's not powered up. It's probably doing no harm (we hope) but we can't say we like it.
Performance
• All our sample images are from a pre-production version of this lens but the lab tests were carried out with a full production sample.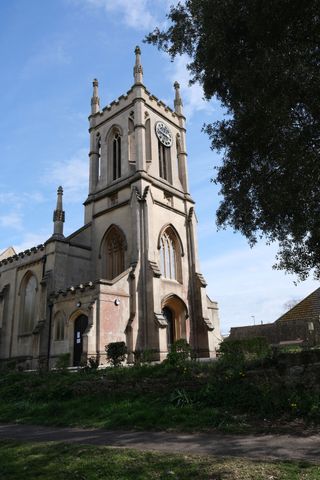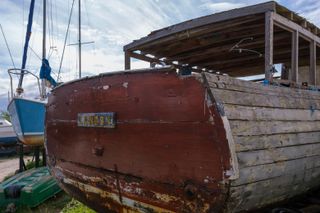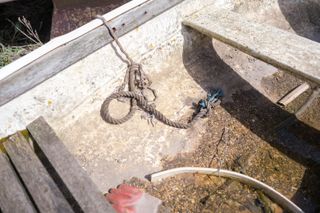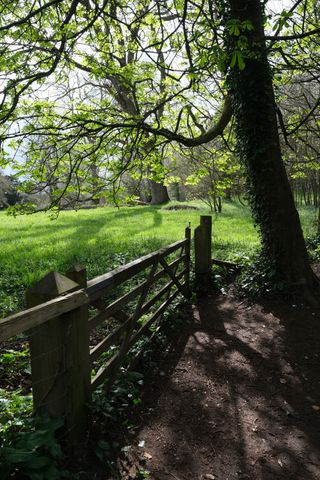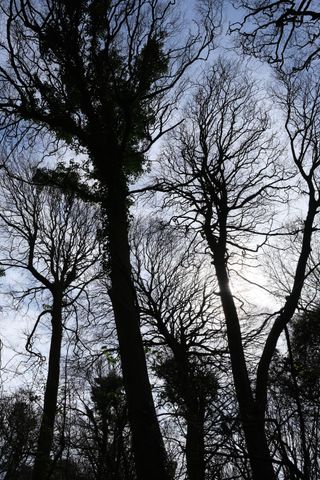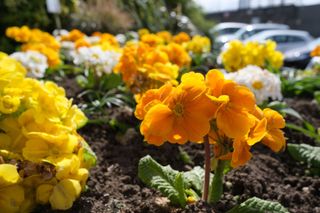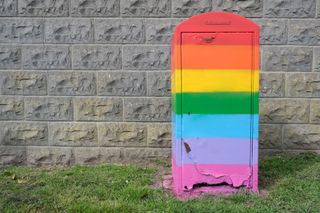 We took wide variety of shots in different conditions and at different aperture settings and the results were impressive. Our pre-production sample was possibly a fraction softer at f/1.4 than at smaller apertures, but our lab tests on a full production version show terrific resolution even wide open.
In fact, our real world images showed impressive edge to edge sharpness, no visual distortion, no chromatic aberration – even with fine twigs and leaves against a bright sky – and no perceptible corner shading.
Lab results
We run a range of lab tests under controlled conditions, using the Imatest Master testing suite. Photos of test charts are taken across the range of apertures and zooms (where available), then analyzed for sharpness, distortion and chromatic aberrations.
We use Imatest SFR (spatial frequency response) charts and analysis software to plot lens resolution at the centre of the image frame, corners and mid-point distances, across the range of aperture settings and, with zoom lenses, at four different focal lengths. The tests also measure distortion and color fringing (chromatic aberration).
Sharpness: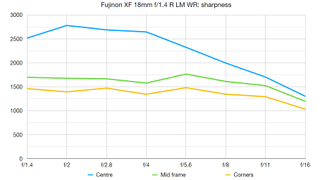 Sharpness in the centre of frame is nothing short of superb, even wide open at f/1.4, and remains so right through to f/8. Inevitably for such a wide-angle lens, mid-frame and corner sharpness appear much less impressive, but this is in large part due to the need to photograph our big, flat lens testing chart at such close range. This results in the corners of the chart being much further away from the lens than the centre of the chart. No ultra-wide lens can maintain peak sharpness over such a relatively deep depth of field at this focus distance, especially at larger apertures.
Fringing: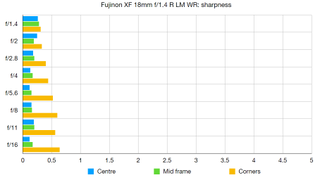 Levels of fringing are negligible in the centre and mid-frame, and are barely visible to the naked eye even in the corners of frame – an impressive result, right through the aperture range.
Distortion: -0.22
Helped by embedded auto distortion correction which can't be disabled, the lens produces a near distortion-free image. These scores do not necessarily show the 'true' nature of this lens' optical distortion, but since the in-camera JPEGs will be corrected and even raw files have a correction profile embedded in them, it's a moot point.
Verdict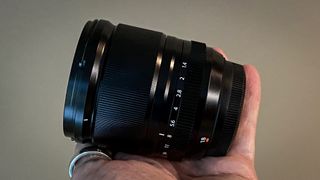 The Fujinon XF18mmF1.4 R LM WR does seem a slightly odd addition to the Fujinon lens range, given that there is already an XF16mmF1.4, but that is a six-year-old lens while this one is a brand new design. It's unlikely you would buy both.
The design is clean and uncomplicated – almost spartan, in fact – and the performance is pretty stellar. 28mm f/1.4 is a fairly common configuration for full frame cameras, but APS-C owners are pretty short-changed when it comes to fast primes – unless you are a Fujifilm user. This is where Fujifilm has made its mark. Fujifilm cameras are very good in themselves, but the range of premium quality X-mount lenses sets it apart in the APS-C market.
Read more:
• Best Fujifilm lenses
• Best Fujifilm cameras
• Best wide-angle lenses
• Best mirrorless cameras
• Best lenses to buy