Reveni Labs has launched a Kickstarter for an exciting new product that promises to be a game-changer for film camera enthusiasts, repair technicians, and collectors. The Reveni Labs Camera Tester is a state-of-the-art testing machine that could completely revolutionize how film cameras are maintained and assessed, by providing in-depth information about the device.
Just the other day I was sorting through all my film camera gear and I wished there was a device for testing old film cameras. I have three bodies: a Nikon FM2, a Canon AE-1 and a Canon AE-1 Program. I know the FM2 works, and the shutter on the AE-1 Program is broken (because I got a roll of film from it back that was all black), but I have no idea about the AE-1. I don't want to waste another roll of 35mm film just to find out it also doesn't work, so for me the Reveni Labs Camera Tester would be incredibly useful.
This is something I've been eagerly awaiting – a breakthrough in the realm of film camera maintenance. So often old film cameras end up gathering dust on shelves because people don't know what's wrong with them and can't find anyone who can fix them.
With this new device not only will camera enthusiasts and engineers be able to identify issues faster, but camera collectors will be able to test a camera before buying it to make sure it works.
As the years go on, parts for old film cameras are harder and harder to find, and the skilled technicians who know how to fix them are getting fewer and farther between. Lots of camera repair shops today only offer repairs on mirrorless cameras or DSLRs and many experienced technicians have retired or passed away, leaving a void of knowledge. Recognizing this dilemma,
Reveni founder, Matt Bechberger, came up with the idea for a device that could address the issue using modern components and technology for testing while keeping costs down.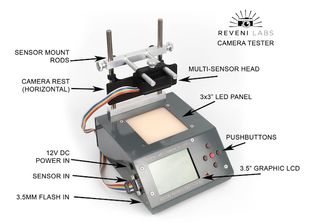 Key features of the Reveni Labs Camera Tester include advanced testing of the shutter curtains, leaf shutter, lens aperture, and light meters. This testing machine is a versatile tool that can be operated in either a vertical or horizontal configuration, with or without a sensor holding jig, catering to different workflows, preferences, and camera types.
Reveni's camera tester is aimed at professional and amateur camera repair technicians, camera stores and film labs looking to offer testing as a service to clientele, eBay vendors seeking to improve their offerings, and serious collectors who wish to assess their cameras with a technical eye to determine when a CLA (Clean, Lubricate, and Adjust) is necessary.
The Reveni Labs Camera Tester Kickstarter has already exceeded its target of $23,256 / £19,081 / AU$36,536, proving just how in-demand this device is. Priced at just $384 / £313 / AU$600, this groundbreaking product should start shipping in spring 2024 and will be available to customers worldwide.
Editor's note: As with all crowdfunding projects, there is no guarantee that the final product will match the early depictions in the campaign – or that the final product will be completed or delivered at all. DCW does not endorse this or any other crowdfunding campaign.
Not ready to take the leap to film? Check out the best retro cameras – digital systems based on cameras of the past. Also, check out the best instant cameras if you don't want to wait for the print to be developed.