Tamron has announced its first ever lens for the Fujifilm X-mount, the Tamron 18-300mm F/3.5-6.3 Di III-A  VC VXD, which is also available for the Sony E-mount. 
Billed as "the first APS-C mirrorless camera zoom lens in the world with a 16.6x zoom ratio" (with optics such as the Sigma 18-300mm F3.5-6.3 DC MACRO OS HSM | Contemporary already available for full-frame Canon, Nikon and Pentax cameras), the Tamron 18-300mm F/3.5-6.3 Di III-A  VC VXD is also the first all-in-one zoom lens for the X-mount, boasting an impressive 27-450mm equivalent focal range in full frame (35mm) terms.
• Read more: Best superzoom lenses
As is par for the course with lens announcements, the manufacturer states that image quality is superb. "The lens includes special lens elements arranged precisely to maintain high resolution performance from edge-to-edge and provide high image quality that is among the best of all all-in-one zoom lenses."
The 18-300mm possesses a minimum object distance of 0.15m / 0.49ft at the 18mm wide end, along with a maximum magnification ratio of 1:2, giving it a clear strength for close-up shooting. 
Image 1 of 2
Image 2 of 2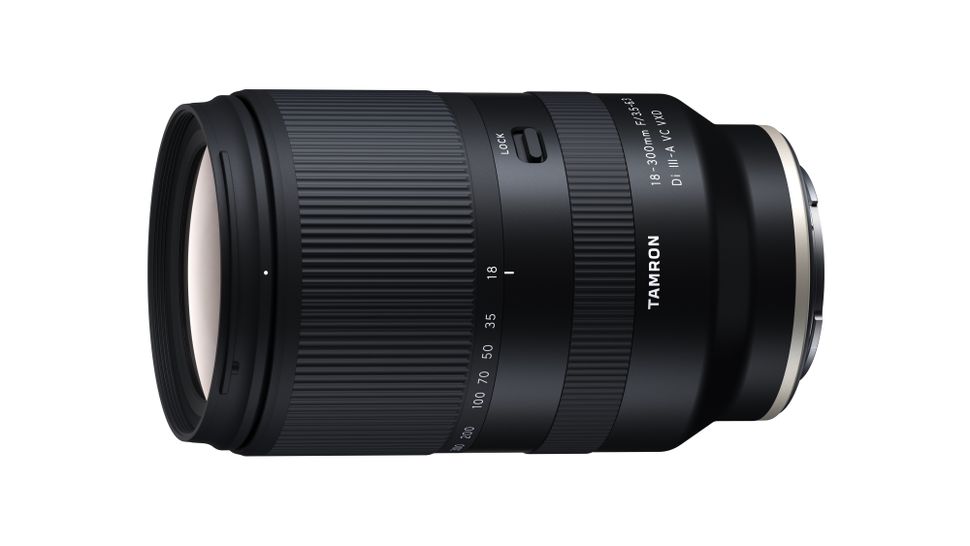 While the number of stops of correction has not been revealed, the lens also boasts Tamron's Vibration Compensation (the VC in the lens' name) technology for in-lens image stabilization, which will reduce camera shake especially when shooting at the 300mm long end. 
It's also a weather-sealed lens, making it suitable for all-weather shooting, and features the manufacturer's VXD (Voice-coil eXtreme-torque Drive) linear motor autofocus mechanism "for superior quietness and agile performance."
Helpfully for owners of other Tamron lenses, it has a unified 67mm filter size in line with the manufacturer's other mirrorless optics. And, while the size and dimensions weren't revealed, Tamron describes it as "comfortably compact."
The Tamron 18-300mm F/3.5-6.3 Di III-A VC VXD will be available "sometime at the end of 2021", with pricing still to be confirmed. 
Read more: 
Best superzoom lenses for Canon
Best Nikon superzoom lenses for Nikon
Tamron 18-400mm f/3.5-6.3 Di II VC HLD superzoom review
Tamron explains why its Sony E-mount zoom is not a 70-200mm