Tamron's announcement this week that it was developing a 70-180mm f/2.8 for Sony E mount mirrorless questions left everyone scratching their heads. Why weren't Tamron producing the much more obvious, and tried-and-tested, 70-200mm f/2.8 - like the ones it has been producing for DSLRs for years. After all, the 70-200mm f/2.8 is a go-to telephoto zoom for practically every professional photographer on the planet.
At PhotoPlus Expo 2019, the Tamron team gave us the thought process behind the decision to cut off the telephoto reach on its Tamron 70-180mm f/2.8 Di III VXD. And the answer, is that this relatively small change gives a significant reduction in length and weight.
Tamron apparently started work on producing a 70-200mm f/2.8 for full-frame mirrorless, according to Takashi Sawao, General Manager of Imaging Products at Tamron. But they switched tack when they discovered that a 70-180mm f/2.8 would not only be 25% shorter - but was an incredible 45% lighter. The lens measures 149mm / 5.9 in long, and weighs 815g / 28.7oz.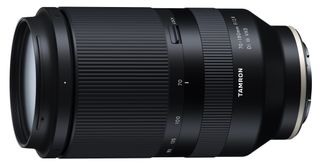 The length of the lens, however, will not remain constant as you zoom - it will increase as you zoom in. With the lens still in development, Tamron would not give a final measurement for the maximum length.
Sawao explained that Tamron's strategy was to focus on making native mirrorless lenses - and not simply converting its existing DSLR range of optics. Furthermore, it whilst some rival companies were increasing the weight and price of mirrorless cameras - Tamron would concentrate on making lighter and more affordable options.
The price of the Tamron 70-180mm f/2.8 Di III VXD (Model A056), which is due to go on sale next spring, has not been set. However, if they could get this lens into the market at the $1000 or below ballpark, it would certainly stop people moaning about the lack of 20mm at the telephoto end.
We would also be prepared to guess that the new new VXD (Voice-coil eXtreme-torque Drive) used in the lens is also destined to be used in other future Tamron lenses. A full-frame mirrorless equivalent of Tamron's SP 150-600mm F/5-6.3 Di VC USD G2 could be on the roadmap…
Read more:
The best Sony lenses in 2019
The best 70-200mm telephoto zoom lenses for 2019