Tamron has launched a photography and videography contest for Tamron users in the United States, Canada, and Mexico. The Tamron User Photo Contest 2023 launched on October 1, with entries open until October 31 2023.
The contest will be made up of seven categories: Travel/Landscape, Wildlife, Close-up/Fine art, Portrait, Sports/Action, Photojournalism, and Video, and will be set to showcase the best photography from the Tamron community.
• Check this story about one of the best Tamron lenses getting an update
There are lots of chances to win prizes by entering as there are several winning positions. As well as an overall grand prize winner for both photo and video, there will be winners and runners-up for each category, as well as honorable mentions (so more than seven!) The grand prize winner for both photo and video will be awarded $500 plus their choice of select Tamron lenses valued up to $1,499, such as the highly rated Tamron 50-400mm F4.5-6.3 Di III VXD. The grand prize winner will also get a digital editorial profile and social media feature. The rest of the winners will be awarded a range of lenses and goodies from Tamron depending on where they finish.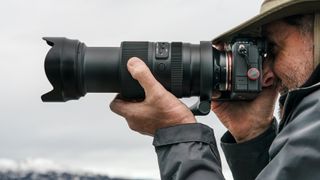 The main rule, as the name of the contest may suggest, is that you must shoot any entries with a Tamron lens, because of this, the contest is set to become a showcase of what Tamron lenses can offer, and I for one am excited to see what is created.
Tamron is well known for creating lower-budget third-party lenses that have a lower entry point for photographers than the natural lenses of camera manufacturers, so this will also demonstrate what can be achieved with cheaper glass. Although the glass may be less costly, that does not necessarily translate into lower quality, with third-party lenses beating the big camera manufacturers in their own lens markets. Tamron sells lenses for a lot of mounts, by the way – Sony E, FE, Fujifilm X, Nikon F (DX & FX), Z, and Canon EF & EF-S – so most photographers should be able to buy their way into the competition!
Calling all Tamron lens Users! Enter the Tamron Photo/Video Contest Today!👉Get all the details: https://t.co/MyftdIo5i0 pic.twitter.com/bMB2PKFzo6October 1, 2023
The contest boasts a large judging panel across the seven categories, with guest judges including Nader Abushhab, Hernan Rodriguez, and Alyce Bender.
Tamron has been creating more mirrorless camera lenses, including the 'world first' ultra-wide zoom for Sony E-mount, set to be released this month. It will be interesting to see how these newer lenses have been put to the test for photography and video.
For your chance to win the cash and lens prizes enter the contest on Tamron's website here.