Every year we're wowed and wooed by the winners of the International Garden Photographer of the Year competition.
Now in its 12th year, IGPOTY continues to push the boundary of the genre and communicate the beauty and importance of plant life – from around the world.
Overall winner – Fireworks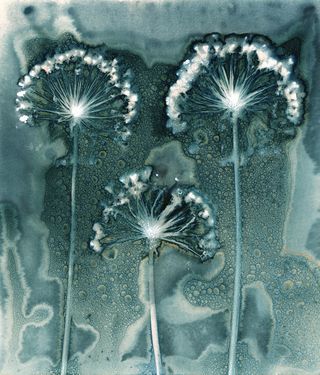 This year, the winner of £7,500 and the title of the International Garden Photographer of the Year is Jill Welham of North Yorkshire, England.
Jill has been perfecting her passion for the cyanotype photographic print process, and her winning image 'Fireworks' depicts the three Allium heads with this technique.
The judges particularly liked her cyanotype process, too, which resulted in intricate circular patterns and fluid shapes.
"Jill's image has proven that even old techniques are still capable of relevance, originality and immense beauty," says Tyrone McGlinchey, Managing Director of IGPOTY.
IGPOTY is the world's largest (and most prestigious) global competition for garden and plant photography. Competition 12 had over 19,000 individual entries from over 50 countries.
There are eleven main categories to enter and numerous special awards including Young Garden Photographer of the Year and a mobile only category, Gardens on the Go.
Gallery of other winners
Find out more about IGPOTY
International Garden Photographer of the Year is run in association with the Royal Botanic Gardens, Kew, United Kingdom.
The main exhibition is held annually at Kew, with touring exhibitions in the UK and all over the world.
The competition closes on October 31 every year, but there are seasonal categories through the year.
The competition is open to everyone, anywhere in the world. Images do not have to be taken in a specified year. There is no distinction drawn between professional and amateur photographers.
There is a fee for entering the competition which helps to cover the expense of administration. This fee is £12 for 4 single images, or £25 for a portfolio.
An illustrious limited edition hardback book of the exhibition is normally produced each year.
Head to the IGPOTY website to see the rest of the winners, and information on the competition.
Read more:
Photo contest seeks to save endangered British species from the brink