There are still a couple of months to wait until Amazon Prime Day 2020 - if the rumors are true - but we have just spotted this great cheap camera deal at Amazon UK that we thought was worth pointing out.
The Sony A7 is a fantastic mirrorless camera from a great family of mirrorless cameras. This full-frame model is the second generation A7 - and with an overnight reduction is now just £599 at Amazon UK in this incredible summer Sony sale.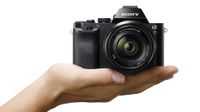 Sony A7 with 28-70mm - £599 from Amazon UK
This is a great deal if you are looking for a full-frame mirrorless camera, and don't want to pay megabucks. The first generation A7 gives you a 24 megapixel sensor, and still looks and feels a great camera despite its age. And this price includes Sony's own 28-70mm, making a great starter kit.
UK deal - offer ends midnight 31 July (BST)
Sony A7 vs A7 II vs A7 III: How do they compare?
The A7 was Sony's first shot at the full-frame mirrorless camera market, although the fact that Sony has kept it available all these years shows just how relevant it remains.
Based around a 24MP sensor that's capable of capturing Full HD videos to 60p, the camera would make an excellent first-time full-frame buy for those on a budget, and would even be a great candidate as a second body to another camera.
It accepts the same E-mount lenses as other options in the series, and has a tilting LCD and a high-resolution electronic viewfinder to help you compose images and videos with precision in all manner of lightning conditions.
Fast Hybrid AF and Eye AF are also on board, while the magnesium alloy body is robust and fashioned with a substantial grip that supports longer and/or heavier lenses. Furthermore, despite not being the newest Alpha model around, it's primed with both Wi-Fi and NFC.
Amazon has some other great one-day offers today only on Sony gear - including on the RX100 III, A6000, and the A7 II - check out the full range of deals.
Also read: