The Sigma fp will start shipping from Japan from October 25, and will cost just $1899 body only in the United States, and £1999 in the UK. The camera is Sigma's first ever full-frame mirrorless camera – and will use the same L-mount lens system as Leica and Panasonic are using for their full-frame cameras.
When originally announced Sigma had simply hinted at a price that was 'under $3000' - but in recent days it had been clear that the innovative camera would actually be much closer to $2000. The reality is that it will be well under the $2000 bar - thanks to the aggressive $1899 body-only price. But even more tempting is the US kit, which pairs the Sigma fp with the Sigma 45mm F2.8 DG DN Contemporary, which will be sold for a discounted price of just $2199.
Designed very much to be a modular system, where you choose viewfinders, grips and more to help set up the camera to suit your shooting - and to optimize for stills or video - the price of the nine Sigma fp accessories have yet to be announced (but you should probably budget for needing at least one of these).
Weighing just 370g and featuring a 24.6 megapixel Bayer full-frame sensor, the Sigma fp can shoot 4K. Unusually there is no mechanical shutter, but can output 12-bit CinemaDNG Raw video.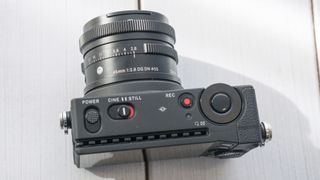 The fp marks the company's first camera since the Sigma SD Quattro H back in 2017, and represents a notable step away from Sigma's favored Foveon sensor technology (as seen in the Quattro H, which featured an APS-H sensor with a spatial resolution of 25.5MP, producing a supposedly equivalent 51MP resolution).
Sigma is still planning on a Foveon-sensored L-mount full-frame camera - which is promised for release in 2020.
Whilst shipping starts this month, Sigma UK are not expecting the fp to actually reach the shops until November or December.
• Pre-order at B&H Photo USA
• Pre order at Park Cameras UK
Read more:
Sigma fp hands-on review
Sigma fp is so small it literally fits in your trouser pocket!
L-mount lens roadmap: Panasonic promises 42 lenses by the end of 2020