Shimoda Designs has unveiled its new line of adventure camera bags and accessories on Kickstarter - the Action X series. Designed specifically with action and adventure photographers in mind, the new range seeks to make working in extreme environments more enjoyable, but above all else, safer for both the creator and their gear.
The Action X system currently incorporates three new backpack bag models, compatible core units, new rollers and a top loader, which allows versatile access to essential kit on the move.
The new bag range consists of the Action X30, X50 and X70, which have 30, 50 and 70L internal capacities respectively, although each model features an expandable roll-top, which increases the effective storage space when filled completely. This volume adjustable tool also enables the maximum space to be compressed when not using all of the available internal capacity, to keep stored gear safe by minimizing movement.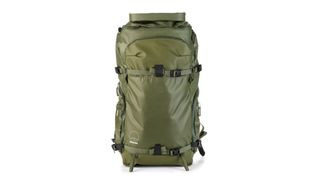 The bags make use of a quick access side panel, for unpacking gear in fast-paced shooting situations, in addition to a main rear-placed aperture. Each model features a 15in laptop sleeve, removable waist belt, strap-mounted accessory pocket (which can also accept a water bottle), weatherproof, SplashGuard zippers, removable ski straps and two tripod pockets, plus other functional accessory spaces. An adjustable torso height also adds to the customizable options for increasing user-specific comfort.
Read more: The best camera backpacks in 2019
The core units have been designed with the new bags in mind. The Medium Mirrorless Core Unit v2 is designed for specific use with the X30 and is best suited for slimline Compact System Cameras (CSC) with less contoured grips.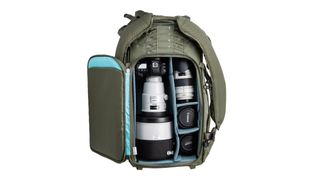 The v2 Medium and Large DSLR Core Units are built for larger cameras, with deeper grips, or with slimmer cameras mounted on an L-bracket. This core unit is compatible with the X50 and can also accept compact video systems. Part of the update process for these core units has been the addition of a side access, to align with the side panel for the new Action X bags. A lightweight aluminum frame has also been installed for added stability with minimal load.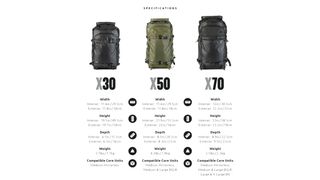 The Action X70 is the largest of the new backpack family and is designed for video specialists and cross-medium creatives. The DV (Digital Video) core units are available for in Large and Extra large variants for heavy duty cinema gear or stills photographers who want to leave a super-telephoto lens mounted on their camera for rapid shooting out of the bag.
The Shimoda top loader is designed for rapid access to both Mirrorless and DSLR camera types, coupled with mounted professional-grade zoom lenses, such as a 24-70mm f/2.8 with attached hood or a 70-200mm f/2.8. The top loader can be used as a shoulder bag or attached to a belt. It is fully compatible with the new Action X series backpacks.
Along with the new Action X range, Shimoda has also updated its Carry On Roller to accept the new DV Core Units. Constructed with a Nylon Carbonate PU coated shell, the roller has superior moisture resistance and durability. Shock absorbent wheels, sealed zippers and flexible pocket space makes the roller adapted for both harsh environments and airports.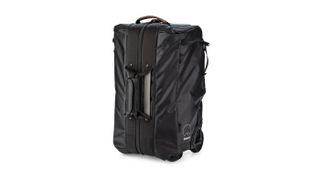 Shimoda are offering woman's straps at no extra cost, and these can be bundled with the Action X series on order.
As part of their Kickstarter campaign, Shimoda are also donating 1% of the total sales of the Action X to Give Back To Nature, a community of adventure and landscape photographers who aim to plant one million trees to landscapes ravaged by deforestation.
Read more:
The best camera bags and cases for photographers in 2019
5 tips for choosing and using shoulder camera bags