Watch video: 5 tips for choosing and using a camera shoulder bag
A shoulder camera bag is a great alternative to being weighed down by a full-on camera backpack. Smaller and lighter in most cases, shoulder bags also make it much easier to get to your camera gear – which is fantastic if street photography is your… well, bag.
Shoulder bags come in a wide range of sizes, styles and types to suit your camera equipment and your lifestyle. Looking to mix photography with commuting? How about accommodating shooting and travel? Don't worry, there's a shoulder bag for that and for pretty much everything.
So here are five tips for choosing and using a camera shoulder bag…
01 Color
Most camera bags are black, but it's not the only color in town. This Billingham Hadley Pro is Khaki fabric with Tan leather – and there are even more colors to choose from.
What we love most about this bag is that it doesn't look like a camera bag at all – and that's important, because you don't want to be targeted by vagabonds when you're enjoying a city photo walk.
02 Capacity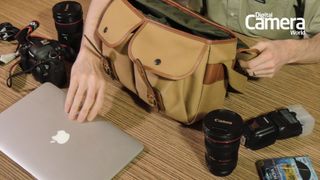 The Hadley bag may look compact, but guess what we've managed to fit inside it – one DSLR, two lenses, one flash, one battery charger, one plug, two filters, and one laptop.
Having a bag of this size is one thing, but you need to make sure that it can fit all your kit – and it's worth thinking a couple of steps ahead. You may not own a tablet or an extra lens today, but getting a bag with enough space to accommodate them in future might save you having to replace it as and when you do get them.
03 Flexibility
Velcro inserts mean that you can easily change the arrangement of the bag's innards to suit the profile of your equipment. You could always swap out some camera kit for something far more useful – bin your flash and stash some food and drink, for example.
Again, customizable inserts means that your bag is more future proof should you add or change a couple of lenses, or even if you switch camera systems entirely.
04 Expansion
Growing your camera equipment collection doesn't necessarily mean you have to buy a whole new bag. As with many Billingham bags, the Hadley Pro can be expanded with Avea 7 end pockets. They will be good for cameras, lenses or accessories.
What's more, there are Hadley Small and Hadley Large variants of this popular bag, so check out the Billingham website to find the model that's right for you.
05 Shop around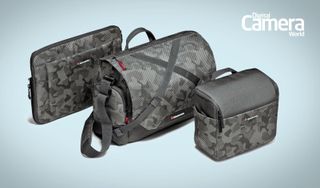 The Billingham Hadley Pro is a good example of a great all-round shoulder camera bag, but there are plenty of other solid choices.
We particularly like the Vanguard Havana 21, which is both practical and stylish, with space for a camera body and a couple of lenses. And we're also especially keen the Manfrotto Noreg Messenger-30.
Could this be the only adaptable commuting-come-office-come-travel bag you ever need? The laptop sleeve is removable and the camera insert comes out to act as a small shoulder bag. Some very clever design from Italy!