Skylum has three great offers available this week, that allows you to save up to 50% on software bundles built around its latest Luminar 4 (opens in new tab) editing software.
The best and biggest bundle is the Max pack, that gives you Luminar 4, Skylum's Aurora HDR software, the Power of Nature pack of skies, and the Amazing Planets pack. This usually retails for $262/AU$357, but you can now get this for $169/AU$218 (opens in new tab).
Alternatively you can opt to get just Luminar 4 with both the add-on planet and sky packs for $99/AU$109 (a saving of $64/AU$109) (opens in new tab).
The lowest-price offer is the Luminar 4 bundled with the pack of 21 different planets for you to edit into the skies of your image. This now costs $89/AU$99 (opens in new tab) – saving you $49/AU$89 on the RRP.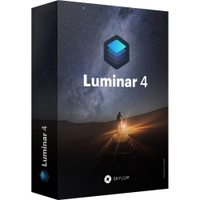 (opens in new tab)
Skylum Luminar 4 summer deals (opens in new tab)
Pick your choice of add-ons from the Aurora HDR software, add-on skies to help you edit your landcapes, or the planet pack that will add some sci-fi mystery to your edits. There are three bundles to choose from.
Offer ends Midday (ET), 17 June 2020 (that's 1am AEDT, 18 June)
About Luminar 4
(opens in new tab)
Luminar 4 is the latest version of Skylum's all-in-one photo organising, editing and effects software. It comes in both Mac and Windows version and brings brand new AI image enhancement tools, including portrait enhancement and the remarkable AI Sky Replacement tool.
You can see what we think in our in-depth Luminar 4 review (opens in new tab), and Luminar is included in our list of the best photo editing software (opens in new tab) you can buy right now.
Read more
Best budget laptops for photo editing (opens in new tab)
The best monitors for photo editing (opens in new tab)
The best monitor calibrators (opens in new tab)
The best mouse for photo editing (opens in new tab)
The best graphics tablet for photo editing (opens in new tab)