With the 5G rollout gathering pace around the world, we expect to see a whole host of new 5G phones at this year's IFA electronica trade show that opens in Berlin later this week. But the first, and probably the most exciting, is the Samsung Galaxy A90 5G – as it is designed to offer 5G at a more affordable price than many other 'flagship' 5G phones we have seen so far - including the Samsung Galaxy S10 5G.
But as far as photographers are concerned, the Galaxy A90 5G is still a very tempting prospect. It packs in three rear cameras to cover all the angles. The main camera is a 48 megapixel affair, with a lens that has an f/2 maximum aperture. Alongside this an 8MP ultra wide camera, with a 123° angle of view and a maximum f/2.2 aperture. Third, but not least, is a 5 megapixel time of flight camera which is used for create depth-of-field bokeh effects. On the front, these are joined by a 32 megapixel f/2 notch-style selfie camera.
Available in black or white, the phone has a 6.7in 1080x2400-pixel AMOLED display. This can be used for on-screen fingerprint (or alternatively you can use face recognition via the selfie camera).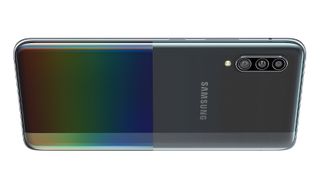 "We're excited about the success of the Galaxy A Series – a generation of smartphones built for the new Era of Live that focuses on essential features people want the most, including a high-quality camera, long-lasting battery and immersive display," said Conor Pierce, Corporate Vice President for the UK & Ireland. "Samsung has worked tirelessly with our partners in the 5G ecosystem to bring 5G to as many people as possible, and now we are offering 5G connectivity across the entire Galaxy smartphone portfolio, giving more people high speed access and connected experiences."
Pricing and availability of the handset have yet to be released. Vodafone has confirmed, however, that they will be offering the phone in the UK on its unlimited data plans.
Read more:

The best 5G phone for photographers in 2019
What is 5G? And what does it mean for photographers?
The best add-on lenses for iPhone and Android