Photographer and The School of Photography founder Marc Newton has documented the effect of today's throwaway society by shooting car boot sales.
Junk, trash, odds and sods, rubbish, bric-a-brac. There are plenty of words for the unwanted clutter that clogs up our homes. Whether its old chargers tangled together in a shoe box, toys that your kids have lost interest in (if they ever really had any) or clothes that don't quite fit anymore, products that were once shiny and new are now just annoying pieces of debris that you don't know what to do with.
Often it's only when we collect all of our unwanted things into one place that we realize quite how many useless items we own. One of the most traditional British solutions to an overabundance of stuff is the car boot sale, and that's what photographer, educational speaker and author Marc Newton set out to document.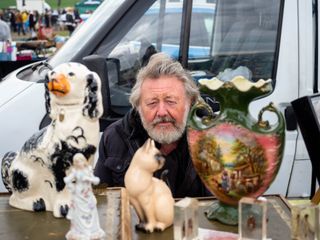 Marc says, "I want to show people our throwaway culture that is steadily destroying the world we live in. Why did we need these products? What would happen if we had one or even ten less plastic toys, or ceramic plates? We are all conditioned to buy more, get a new version or change the decor.
"The environmental impact of this is immense and with 7.5 billion people in the world and an estimated 1 billion more in the next decade, this practice will have to stop if we are to live in an environmentally sustainable way. So, I suppose, in my own funny way, I want to document this for people to look back on in years to come."
Newton's photos show the eclectic collection of items you can find at a car boot sale, and the people selling them.
Marc Newton's images will be available to view in an exhibition running at London's Project Space gallery in Bermondsey between 10th - 14th March during gallery opening hours (Tuesday - Saturday, 11AM - 6PM). To coincide with the exhibition, Newton is also running a street photography walk through London in association with Olympus. To find out more about the street photography walk, visit this page. If you're interested in learning more about Newton's 'The British Boot Sale' project, click here.
Read more
Best books on street photography in 2020
Best lens for street photography in 2020: top 35mm prime lenses listed
The best pancake lenses for Canon, Nikon and more