British-based Octopus Cinema has announced the development of the Octopus Camera – a 4K and 5K cinema camera built on an open platform with fully removable and upgradable parts, including the SDK and the sensor itself.
Rather than limiting itself to a specific sensor or sensor manufacturer, the Octopus Camera supports a variety of sensor modules. The prototype is targeting a pair of modules from Ximea: the CMV20000 full-frame sensor and the Sony IMX253 1.1-inch sensor.
Both sensors feature global shutter, color and monochrome configurations and at least 12 stops of dynamic resolution (the Sony goes up to 12.5), with 4K up to 30fps, 3K up to 60fps and 2K up to 120fps via 12-bit Lossless Cinema DNG.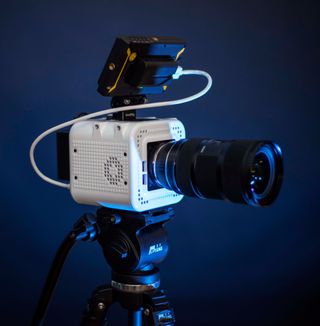 The CMV20000 can deliver 5K up to 48fps, 4K up to 60fps and 3K up to 100fps using 12-bit Lossy RAW / 10-bit HEVC, while the Sony IMX253 records 4K up to 70fps, 3K up to 120fps and 2K up to 240fps via 12-bit Lossy RAW / 10-bit HEVC.
Fittingly, the Octopus Camera uses the open source Micro Four Thirds mount pioneered by Olympus and Panasonic – which is also favored by cine cameras such as the Blackmagic Pocket Cinema Camera 4K and the Sharp 8K Video Camera.
This not only gives it a rich ecosystem of premium optics, but also opens the camera to all manner of third-party boutique, specialist and cinema lenses.
• Read more: Best Micro Four Thirds lenses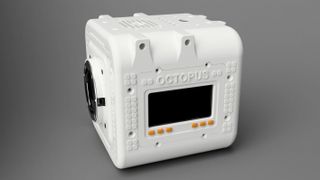 The cube-shaped camera is a compact 110 x 110 x 110mm, and weighs just 900g. It packs an Intel NUC 7i7DNBE board with an 8th Gen Intel Core i7-8650U and 16GB of DDR4 RAM (upgradeable to 32GB). It can record to an SSD or CFast 2.0, and features four USB3 ports and two HDMI 2.0 ports.
Customizable cameras are nothing new. The Axiom Beta is an open platform cinema camera similar to the Octopus, but other products such as the Ricoh GXR enabled you to change the sensor at will – and of course, modular cameras have been around for decades.
And with bodies like the Blackmagic and Sharp 8K, there is increasing competition in the cinema camera sphere. So where does the Octopus Camera fit in?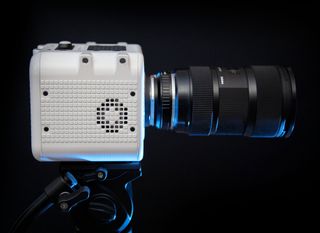 "The focus with the camera is to fill gaps in specialist requirements, such as native monochrome sensor imaging and a fully open SDK to extend and embed custom behavior in the camera," says Russell Newman, Octopus Cinema's founder and lead engineer.
In particular, he sees the resurgence of something like black and white cinematography as a key area in which the Octopus can thrive. "Our native monochrome sensors provide resolving power and sensitivity noticeably beyond their color counterparts. Fine detail in shots is preserved with no moiré or artefacts at all – even when pixel peeping."
The Octopus Camera is still quite a way from release, with a targeted window of Q3 2020, but we're fascinated by the possibilities it offers and will be keeping close tabs on its progress.
Read more:
The best 4K camera for filmmaking in 2019, for beginners, vloggers and pros
Blackmagic Pocket Cinema Camera 4K review
Sharp 8K Video Camera: 33MP Micro Four Thirds sensor, 10-bit 8K at 30fps