If you're a Nikon wildlife or sports shooter and you haven't heard of the 500mm f/5.6 PF lens, then you may want to consider coming out from the rock you've been living under. Currently celebrating its first birthday, the Nikon 500mm f/5.6 PF ED VR has exploded in popularity since its August 2018 release and Nikon are consequently struggling to fulfill demand.
But why, you might be tempted to ask, is this niche and expensive lens (the 500mm f/5.6 currently retails for around $3,600) so incredibly popular?
The answer lies with two innocuous letters lurking in the 500mm's title: PF. This abbreviation stands for Phrase Fresnal. This technology is designed to reduce chromatic aberration by using just a single lens element rather than the several that are usually required.
• Read more: Best telephoto lenses for Nikon
Without Phrase Fresnal technology, telephoto lenses tend to be very large and heavy - due to those multiple lens elements counteracting chromatic aberration. However, the 500mm f/5.6 PF is 840grams lighter than Nikon's 200-500mm f/5.6 and an incredible 1630grams lighter than the 500mm f/4.
This makes it a fantastic choice for sports and wildlife photographers who don't fancy having to make Arnold Schwarzenegger-level gains in order to be able to simply carry around their kit.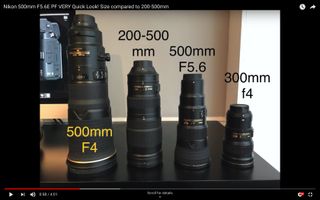 However, if we've piqued your interest, your wallet is open and your credit card is being drawn out, you may want to prepare yourself for disappointment. While there are no official figures we can cite, it appears as if there is a month-long waiting list to get this lens. We've even seen someone who pre-ordered their lens in December and is still waiting in August.
Understandably, frustrations have been building and people have been wondering just why it's taking Nikon so long to fulfill orders. However, it appears we may finally have an answer.
Nikon Rumors recently reported that the German NPS website states that "the monthly production capacity of the 500mm f/5.6 lens is limited to approximately 1000 lenses." This means that, no matter how many people place orders, Nikon can only fulfill 1000 per month.
We would be very interested to know just how big Nikon's backlog is - and how long it'll take them to clear it at their current production rate.
For now, there's no indication that Nikon's production rate will increase. Building a lens is a specialized and expensive affair, and the addition of this pricey Phrase Fresnal element likely doesn't help.
Unfortunately, the best way to get your hands on one is simply to pre-order one now, cross your fingers and hope you see it before the end of this year!
Read more
Best Nikon lenses in 2019: from telephotos to ultra-wide lenses and more

Best 150-600mm lenses: great super-telephoto zooms to get close to the action

10 ultimate locations for wildlife photographers