UPDATE 08/09: Anyone wondering whether Pentax's upcoming flagship APS-C DSLR would have a tilting or vari-angle screen will be left sorely disappointed by Ricoh's latest blog post 'Product Stories of New APS-C Vol.3' from Shigeru Wakashiro, who's in charge of the planning and development of new Pentax DSLR products.
Wakashiro said: "Today, a large number of both mirrorless and SLR cameras feature an angle-adjustable LCD monitor with a vari-angle or tilt-type screen. For our new APS-C format flagship model… we decided to instead use a fixed-type LCD panel… We decided to prioritize the development of a compact, sturdy body because it was one fo the new camera's most important design themes.
• Read more: Best Pentax camera
"At Pentax, we prioritize viewfinder shooting, so we pay the utmost attention to the appearance of the viewfinder image, and to the camera's image-tracking performance. Since a reduced body depth makes for a greater protrusion of the viewfinder eyepiece — which provides the benefit of keeping the photographer's nose from coming in contact with the LCD monitor — it can make viewfinder shooting more comfortable.
"In addition, incorporating an angle-adjustable screen in a compact body often makes it difficult to increase the size of the LCD monitor. That's why Pentax decided to equip this new camera with a fixed-type 3.2-inch monitor. This was a decision based on our goal of allowing the photographer to confirm the image's quality and composition on a larger screen at the shooting location, while still keeping with the basic design concept of a compact, sturdy body."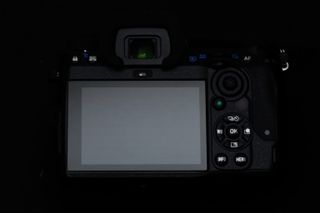 ORIGINAL STORY: Apparently, this upcoming Pentax camera could be called the Pentax K-3 III. It's reportedly due to be announced in early fall and the release will be a few months later (seemingly just in time for the holiday season!).
These rumors come from Japanese photographer Kimio Tanaka, via Pentax Rumors, who also said that the price is likely to be higher than expected, as the Pentax K-1 III will be the flagship model. However, he also said that the upcoming camera "will not disappoint you".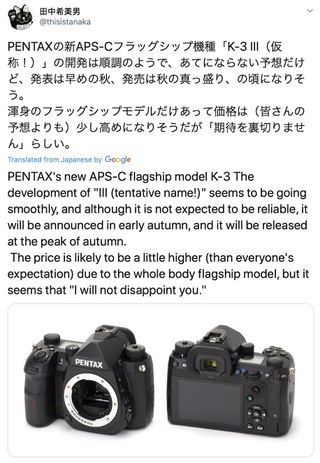 In another curious Japanese video presentation, Pentax revealed more information on its upcoming APS-C flagship camera – including a silver version of the camera, which will launch alongside the standard black finish.
The company is still being coy about many aspects of the camera, including its name, referring to it only as "APS-C flagship model". The video confirms, however, that the new model will feature dual SD memory card slots, faster autofocus, a slightly slimmer profile than the Pentax KP as well as an optical viewfinder with greater magnification and 10% more brightness than the KP's.
In addition, the flagship will feature a joystick (or a "focus point lever", as the company calls it) as well as optimized positioning of buttons and dials, with many controls being made larger – which complements the new LCD panel, which is larger than the one featured on the Pentax K-1 Mark II or KP.
As for the all-important sensor resolution, again Pentax is keeping quiet – although it conceded that we can pretty much guess what megapixel count it will be. "In terms of numerical figures, such as the number of total recording pixels, you can pretty much expect what the camera's APS-C format sensor can do," said Shigeru Wakashiro of Ricoh's Product Planning Division.
That means we can safely expect a sensor in the familiar 24MP range, and nothing crazy like the current resolution king, the 32.5MP Canon EOS 90D. However, Wakashiro claimed that the new sensor and image processor would deliver superior ISO image quality – but specifically at lower sensitivities.
"To improve image quality, we equipped the camera with brand-new components, including the image sensor, imaging engine and accelerator unit. All of these components were newly designed and developed for this camera. Because of this, the camera assures better performance in terms of resolving power, and in high-sensitivity photography.
While some cameras today offer a top sensitivity up to 800,000, there has been little advancement in the image quality of the low-sensitivity ranges… This image-processing unit, however, has been advanced to such a level that you can expect greatly improved image quality, even at sensitivity as low as ISO100."
Wakashiro made another bold claim; when asked if the flagship camera features the most advanced imaging sensor, he replied: "Yes, it does. It's the most advanced APS-C flagship model available today. There is a common perception that APS-C format SLR cameras are inferior to full-frame SLR counterparts in terms of optical viewfinder and image quality. We are hoping that this camera will be able to break this perception."
Pentax also took the opportunity to reveal a new limited silver version of the Pentax K-1 Mark II, along with silver versions of Star-series lenses: the HD Pentax-D FA* 70-200mm f/2.8 ED DC AW and HD Pentax-D FA* 50mm F1.4 SDM AW. Hopefully the next time it shows the flagship camera, it will have a name and some proper specs!
Read more:
The best Pentax cameras in 2020: from APS-C to full frame and medium format
The best Pentax lenses: our top lens suggestions for your Pentax DSLR
Pentax KP review