Color me intrigued. Moment has taken to Instagram to tease a brand new mysterious Module 8 Optic, and potentially a whole brand new subdivision of the company.
You can see the original teaser below, while the accompanying video is a little reminiscent of the trailer for an indie horror movie (volume on) it doesn't reveal much about the product.
We can see that it will be an optical product (clue is in the name) that can be attached to a camera of some kind, and will sit between the camera and another secondary lens, which we can glean from the small glimpse of the connector pins on the Module 8 Optic.
Moment promises something "radically different and new" that will "empower" millions of creators, and what product announcement would be complete without a little grandiose hyperbole, however, with huge heavyweight designers on board then we could expect something very special.
The lens is designed by Iain Neil and Michael Thomas. Iain Neil is the Oscar-winning legendary cinema lens designer behind some of the most iconic lens designs for Panavision, Cooke Optics, and Leica spanning his 40-year career. And Michael Thomas is Moment's lead technical advisor for the past decade as it has revolutionized the mobile lens market.
With the teaser content and the fact that such a legendary cinematic lens designer is on board, we can be pretty sure this will be an optic that is designed for video first, although hopefully will have some hybrid uses. The most likely candidate is a speed booster accessory, which works to reduce the focal length of a lens and boost the f-stop, giving APS-C cameras the same focal length and aperture as a full frame equivalent.
With Fujifilm APS-C cameras like the Fujifilm X-T5 and Fujifilm X-E4 being favorites of Moment's content creator audience, this has the potential to be a big hit.
Moment's usual bread and butter are phone lenses and accessories but over the past few years has expanded into a lot more tools for budding content creators, with own-brand bags, accessories, and filters. It is exciting to see Moment continue to push into new areas with unique products.
Moment has already launched a Module 8 website. The Module 8 Optic will be officially revealed on April 25, so we don't have long to wait and see what it might have in store.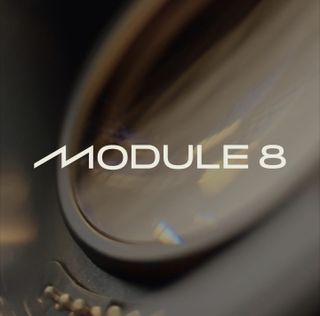 Improve your videos with our guides to the best camera filters, the best anamorphic lens for filmmakers, and the best microphone for vlogging and filmmaking.