We've been whining for a while that there aren't any ultra-wide lenses available for Canon's APS-C line of RF cameras, but we can stop complaining now – the Canon RF-S 10-18mm f/4.5-6.3 IS STM has just been announced.
Announced next to a pair of jaw-dropping lenses – the world-first super-telephoto zoom Canon RF 200-800mm f/6.3-9 IS USM and the truly astounding Canon RF 24-105mm f/2.8L IS USM Z – the RF-S 10-18mm f/4.5-6.3 IS STM brings a much-needed wide-angle perspective to users of Canon's APS-C range of RF-mount cameras.
While it's sure to draw comparisons with the old DSLR iteration, the Canon EF-S 10-18mm f/4.5-5.6, the new RF-S 10-18mm version is better in every way. This comes, most importantly, in terms of image quality, where edge sharpness in particular has been improved thanks to the pair of larger elements situated to the back of the lens (thanks to the shorter flange distance and larger throat of the RF mount), significantly improving detail.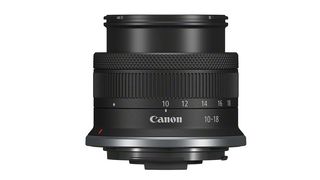 The RF-S lens is also smaller and lighter than the EF-S version, at just 44.9mm in length and only 150g in weight (compared to the 72mm and 240g of its predecessor). It also eclipses the old DSLR version in terms of magnification (0.5x instead of 0.15x) and, while the optical image stabilization offers the same 4 stops of compensation, when mounted on a camera with in-body image stabilization it offers up to 6 stops.
Unlike the recently announced Canon RF 10-20mm f/4L IS STM lens for full frame cameras, the RF-S 10-18mm does not feature the new Peripheral Correction IS system (which uses an algorithm to detect movement and reduce the Jell-O-like wobble at the edges of frame when shooting at extreme wide-angles).
I'm impressed at how rapidly Canon has populated the lens ecosystem for its APS-C RF range. This is now the fourth RF-S lens in the lineup (alongside the Canon RF-S 18-45mm, RF-S 18-150mm and RF-S 55-210mm) and it gives me confidence that Canon is committed to APS-C when it comes to its new mirrorless system.
The Canon RF-S 10-18mm f/4.5-6.3 IS STM goes on sale in December with a retail price of $329.99 / £379.99 / AU$599.99. Check out our hands-on Canon RF-S 10-18mm f/4.5-6.3 IS STM review to read our verdict.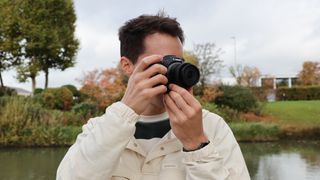 The 10-18mm seems a sure bet to become one of the best Canon RF lenses. Take a look at the best Canon Black Friday deals to see what's on offer, or check out the best Black Friday camera deals from all the brands.