The Canon RF 10-20mm f/4L IS STM is the full-frame mirrorless successor to the Canon EF 11-24mm f/4L USM for DSLRs, which was launched back in 2015.
Far from just a quick mirrorless update, the Canon RF 10-20mm F4L IS STM makes full use of the RF mount – which enables the rear element to sit much closer to the camera sensor, opening up a realm of innovation in optical engineering. Indeed, this is the world's first rectilinear zoom lens with a 10mm focal length and autofocus – making it, on paper at least, one of the best wide-angle lenses for those who work at the extreme end.
We were able to compare our beta sample to the EF 11-24mm that it replaces, and looking at them side-by-side the new lens is considerably more compact and portable with a much neater cylindrical footprint (the older EF lens has a more awkward shape, which could be more difficult to load into a kit bag).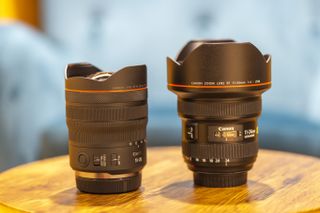 Weighing just 570g it's also considerably lighter, yet packs in new features like a Control Ring, custom button, and all-new tech like Peripheral Control Image Stabilization – impressive!
The new lens only zooms to 20mm at the long end, rather than 24mm on the prior model, though it does go slightly wider to 10mm rather than 11mm. This is a welcome tradeoff, as most people looking to buy this optic will likely have access to a 24mm focal length (with a lens like the Canon RF 24-70mm f/2.8L or Canon RF 24-105mm f/4L). Having a slightly wider focal length and cutting down on size and weight is a smart choice.
Canon RF 10-20mm f/4L IS STM: Specifications
Full-frame compatible: Yes
Effective focal length: 10-20mm (16-32mm APS-C)
Image stabilizer: Yes (5 stops, or 6 stops with IBIS)
Autofocus: Yes
Minimum focus distance: 0.25m
Manual focus override: Yes
Custom button: Yes
Aperture blades: 9
Optical construction: 16 elements in 5 groups
Filter type: Rear gelatine
Weather seals: Yes
Supplied accessories: Soft case
Dimension: 83.7x111 mm
Weight: 570g
Canon RF 10-20mm F4L IS STM: Key Features
Thanks to the advantages afforded by Canon's RF mount, it's been possible to improve the RF 10-20mm in pretty much every conceivable way over its EF predecessor. It has been made much lighter and more compact, while also being able to squeeze in the latest tech, like its 5-stop Image Stabilizer, Peripheral Control IS technology, a Control Ring and a custom button.
It's also Canon's first L-series lens to feature a stepping motor (STM), known for its smooth and quiet operation, making it ideal for recording video. In another first for Canon, it's also the company's first optic to use an STM positioning sensor. This means that the STM autofocus motor doesn't have to reset all the way, each time the camera is turned off, which makes it faster to get up and running with little delay.
A filter holder on the rear element is featured for mounting 35 x 20mm gelatine filters, which we'll come back to later. The lens also boasts a built-in plastic hood, and comes with front and rear lens caps and a soft case for storage.
On the lens barrel you'll find the large focus ring for full-time manual focusing, a Control Ring that can be set to adjust a number of key settings, an AF/MF switch, and a custom button. There's also a switch to engage the optical Image Stabilization (IS), which offers five stops of stabilization on its own or six-stops when used with a compatible EOS R body with in-body image stabilization (IBIS).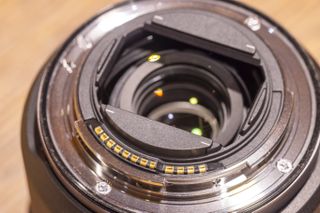 Canon RF 10-20mm f/4L IS STM: Build & Handling
One of the most notable differences between the new lens and its predecessor is its portability and compact design. Weighing just 570g, it is 610g lighter – that's a weight reduction of over 50%! And with dimensions of 83.7 x 111mm, it's also about 35% smaller in footprint – an astonishing improvement!
This is a welcome change and makes it much easier to fit into a camera bag, as ultra wide-angle zooms are generally quite awkward shapes and can take up a lot of space.
Due to the lens being a slimmer design and much better balanced (the old EF 11-24mm feels really front-heavy by comparison) we can see the RF 10-20mm being a much better choice when it comes to video, lending itself to gimbal use nicely such as on the DJI RS 3 Pro Combo. It could even be a good choice for drones (if yours is powerful enough to support a full-frame mirrorless body and a lens).
Handheld video should be impressive too, though it wasn't something we were able to extensively test in our short time with the beta model. When shooting handheld, users will be able to take advantage of the new peripheral Image Stabilization which corrects for wobble at the corners of the frame caused by the IBIS system when capturing video. In short, Canon has created an algorithm that calculates the amount of distortion occurring at the sensor level; the lens IS is then employed to compensate for it.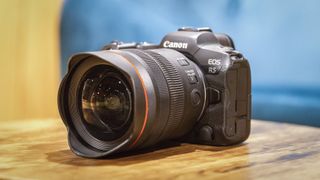 The autofocus stepping motor (STM) should be a boon for video use, too, as these motors are notably smoother and quieter during operation. It also means that focus whirr shouldn't be recorded by your internal or external microphone. In our testing we found the autofocus to be both very quiet and snappy.
Despite being smaller and lighter than its predecessor, the Canon RF 10-20mm squeezes in lots of new physical features. Many of these are found on the lens barrel, such as the Control Ring (for fast access to exposure settings like ISO), a custom button and a switch for the Image Stabilizer. That said, the focus distance window found on its predecessor has been omitted this time around.
The rear gelatine filter holder is a welcome addition, though it's fairly basic and limiting. While neutral density and color filters could be handy to rear-load for video use, filters like ND grads, variable NDs and polarizing filters will be more tricky.
Lee Filters make a specialist SW150 filter holder and series of filters designed for ultra-wide lenses, such as the EF 11-24mm and other ultra-wide optics like the Sigma 14mm f1.8 DG Art. While Lee has yet to announce any plans to make its SW150 system compatible with the new Canon lens, it seems likely given time. This would enable a full range of filters to be used, opening up more options for landscape photographers.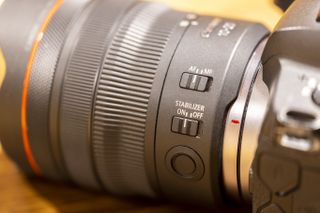 Canon RF 10-20mm F4L IS STM: Performance
When it came to autofocus the STM impressed as focusing was quick, smooth and quiet, making it ideal for both stills photography and video. As you'd expect from one of Canon's top-flight L-series optics, all the rings on the lens barrel felt smooth and the switches clicked nicely into place – and they were also easy to find and engage when you have an eye to the viewfinder.
When it comes to image quality the Canon RF 10-20mm f/4L IS STM boasts an advanced rectilinear optical design. You'll usually find lenses with an ultra-wide focal length of 10mm (full-frame) to be a fisheye with bags of barrel distortion.
A rectilinear design, however, makes this optic special, as vertical lines of buildings should remain straight, making it a good choice for architecture and landscapes photography. Of course you pay a premium for this, with Canon's new lens costing $2,299 / £2,579 / AU$4,199 compared to a lens like the 7Artisans 10mm f/2.8 manual focus fisheye which costs just $139 / £169 / AU367.
Above: One issue we did note with our beta sample was that there was a strong vignette present in the corners of RAW files when shooting at the widest 10mm setting, though this was corrected with the in-camera JPEGs.
Presumably there will also be a lens profile to correct this in Adobe Camera Raw, Lightroom and Canon Digital Photo Professional. It does also raise a question over whether a lens profile will need to be applied to video footage to correct for this, too.
The new lens features sixteen elements in five groups, with three glass-molded aspherical (GMo) elements, one of which is UD, as well as a Super UD element to boot. It also boasts Super Spectra, Air Sphere (ASC) and Sub Wavelength (SWC) coatings which Canon claim help combat ghosting and flare for razor-sharp results.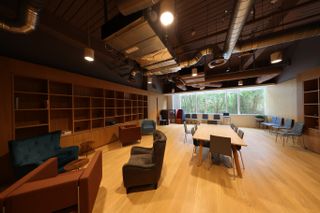 Above: We took this image indoors in a low light scenario with the Image Stabilizer turned on. Shooting at a shutter speed of 0.6 sec it's impressively sharp despite being taken handheld.
The Canon RF 10-20mm f/4L IS STM was used with a Canon EOS R5, so should make use of the full 6 stops of compensation available. It's worth noting that only the R5 running the latest firmware will be able to make full use of the new Peripheral Control Image Stabilization function at launch.
This is a clever bit of algorithmic technology that promises to eradicate the "Jell-O"-like wobble at the corners of frame, which is often the result of using ultra-wides with in-body image stabilization systems. We look forward to spending more time with a production sample to see how well this works in practice.
Above: We set up on a tripod and shot an identical scene at f/8 with both our beta sample Canon RF 10-20mm f/4L IS STM and the old Canon EF 11-24mm f/4L USM to see how they compared. While only a 1mm difference at the widest setting, the RF 10-20mm does squeeze significantly more into the frame.

Since we were testing a beta sample, we're not able to give our final verdict on image quality or resolution yet. That being said, our preliminary findings saw that at f/8 we found a similar, if not better level of sharpness across the entire frame, with slightly better edge and corner clarity in the new RF model.
Above: While our beta sample of the RF 10-20mm isn't the finished version, it did give us a preliminary look into what the sharpness of the lens could look like. When shooting wide open at f/4 and at the widest focal length of both lenses, we were impressed with the clarity of the RF lens across the frame – which was significantly sharper in the center and at the edges, despite being 1mm wider and taking on a more compact lens design.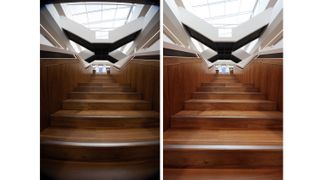 Above: Here you can see the RAW file from our R5 on the left and the in-camera processing in the JPEG hard at work on the right, to pull and stretch any vertical and horizontal lines to make them straight. It also pulls the most egregious vignetting found in the RAW file out of shot.
I don't remember the vignetting or curvature of straight lines to be notable when I was framing up, so the in-camera software is likely correcting this to make the live view display look more like the processed JPEGs. These corrections should also hopefully be applied to any video footage.
Canon RF 10-20mm f/4L IS STM: Early verdict
Our beta sample did show some heavy vignetting at the wide end throughout the aperture range, though this is negligible with in-camera JPEG processing stretching it out of shot when correcting the vertical and horizontal lines. We imagine that a Camera Raw or DPP preset will be able to correct this effectively and it shouldn't be an issue.
Our findings showed the lens to be notably sharper across the board compared to its predecessor, though we'll be sure to show our findings in our lab test results as soon as we are able to get hold of a final production sample.
From what we've seen so far, the Canon RF 10-20mm f/4L IS STM improves on the EF 11-24mm f4L USM in every way possible – and won't cause such a big dent in your wallet either. If you were considering the older EF version, it's a no-brainer!