The Laowa 7.5mm f/2 lens is not new itself, but this is a new version that incorporates electronic aperture control so that the camera now controls the lens aperture. This means that you can use it with the camera's P (program AE mode).
The lens still uses manual focus, but the new chip means that turning the focus ring will now automatically activate the camera's focus magnifier, where enabled, making focusing much faster and more accurate.
Not only that, the in-lens chip can provide lens EXIF data to the camera for embedding in the image file. It's a feature we take for granted with regular lenses, but has so far been missing from Laowa's purely manual/mechanical lenses.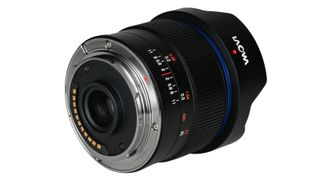 Laowa 7.5mm f/2 key features
The 2x crop factor of Micro Four Thirds lenses means that this is effectively a 15mm f/2 in full frame camera terms, so this lens's tiny dimensions and weight are all the more remarkable at just 53 x 48mm and only 150g. The Micro Four Thirds format is often overlooked because the sensor size is half that of APS-C and one-quarter the size of full frame sensors, but the advantage is that it allows the design of ultra-fast lenses like this one that are also extremely small and very light.
The low weight means this lens could also be ideal for drone photography with the DJI Inspire 2 and Zenmuse X5S camera, for example. Laowa already makes a lightweight 150g version of its existing 7.5mm f/2 MFT lens, but the new electronic model is 7mm shorter and offers electronic control from the camera body.
The new 7.5mm f/2 lens is shorter and lighter than the original, but does dispense with the aperture ring – something for manual-only fans to keep in mind. It also swaps the original lens's 7-bladed diaphragm for a 5-bladed unit, which Laowa says is in order to give photographers a different 'look' when shooting into the sun.
Optically, the new 7.5mm f/2 is the same as the existing lens, with an angle of view of 110 degrees and 13 elements in 9 groups, including two aspherical elements, three ED (extra low dispersion) elements and 'Frog Eye Coating' on the front element.
It's a sophisticated optical design that shows Laowa is not in the business of creating cheap 'novelty' lenses but high-quality manual optics that offer new shooting possibilities.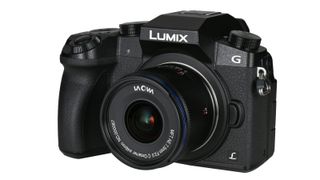 Laowa 7.5mm f/2 price and availability
The Laowa 7.5mm f/2 is available for pre-order now from the Venus Optics website and from selected retailers. The price will be $549.
Read more:
• Best Micro Four Thirds lenses
• Best Olympus cameras
• Best wide-angle lenses
• Best camera drones
• Laowa 10mm f/2 review