UPDATE: Dayong Li, the CEO of Venus Optics, has recently uploaded a video to Facebook that demonstrates the performance of the upcoming Laowa 35mm f/0.95 lens. One of the things that Mr Li specifically demonstrates is the focus breathing capabilities of the lens. In the video you can see that the lens manages to keep subject proportions relatively similar throughout the focus range.
Focus breathing is the term used to describe a change in the subjects size as you move through the focus range. Essentially, objects will either increase or decrease in size as you change the area of focus, which isn't ideal when filming. The impressive focus breathing performance could make the Laowa 35mm f/0.95 lens a pretty tempting piece of glass for videographers.
ORIGINAL STORY: We have now had our first look at the upcoming Laowa Argus 35mm f/0.95 lens, courtesy of a leaked image that has appeared online.
Earlier this year, Venus Optics – the company that produces Laowa optics – confirmed that it was working on series of super fast f/0.95 lenses, to be marketed as the Argus line. Fast glass is increasingly popular at the moment, from the showcase Nikkor Z 58mm f/0.95 S Noct to the affordable Zhongyi Mitakon Speedmaster 50mm f/0.95, and the recent Fujifilm XF50mm f/1.0.
• Read more: 8 fastest lenses you can buy
At the time we had very little information, and we didn't even know which focal lengths we would likely see. However, thanks to the image published by Sony Alpha Rumors, we now know that the first lens in the lineup will be the Laowa Argus 35mm f/0.95.
Based on the image, it also appears that the optic will be designed for full-frame cameras – which makes it more flexible when it comes to different formats, since full-frame lenses can be operated on APS-C and Micro Four Thirds bodies as well.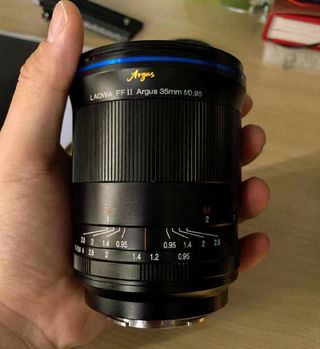 Although no pricing or other information has been confirmed, we can make a few assumptions about this lens.

First of all, Laowa lenses tend not to be the most expensive on the market. The manufacturer offers what many consider to be great value for money, and often great optical performance. Although we don't feel that Laowa can truly be classified as a budget lens producer, it is certainly not in the top tier when it comes to pricing.
Secondly, it is almost certainly going to be a manual focus lens, similar to all other current Laowa lenses. This may prove to be challenging when attempting to focus wide open, though with the use of electronic viewfinders and focus peaking it's more than possible.
Finally, the build quality will likely remain similar to many of Laowa's other high quality lenses. The solid metal design offers a premium feel to the company's optics, which isn't particularly found in lenses produced by many first-party manufacturers. Indeed, Laowa produces many interesting and niche products that tend to fill the gaps left by major manufacturers.
We'll be bringing you more on these ultra-fast Argus lenses as soon as we hear it.
Read more:
Nikkor Z 58mm f/0.95 S Noct review
Zhongyi Mitakon Speedmaster 50mm f/0.95 review
Fujifilm XF50mm f/1.0 review