Two things are remarkable about the Irix 45mm f/1.4 Dragonfly. The first is. the f/1.4 maximum aperture, which is a real bolt from the blue, and the fastest lens ever for a Fujifilm GFX medium format camera.
The second is the price, which is just $1022.45/£769.91 in the Irix online shop. We say 'only', but that's not a bad price for any medium format lens, let alone an f/1.4. The US price is a little higher it seems, but even then only the Fujinon GF 50mm f/3.5 R LM WR pancake lens is cheaper, and even then not by much.
The Irix 45mm f/1.4 Dragonfly corresponds roughly to a 36mm prime in full frame camera terms, so it's an ideal semi-wide 'walkaround' standard zoom – though with a length of 144mm and a weight of 1120g, you might not want to walk very far.
Like other Irix lenses, this one is manual focus only, so you will have to be pretty precise with your focusing, especially at f/1.4. There is a focus lock feature to fix the focus at your chosen point, though – a feature we would like to see on a lot more lenses.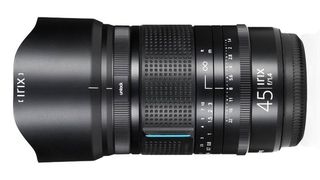 Irix 45mm f/1.4 Dragonfly specifications
Image size: FujiFilm GFX Sensor
Focal Length: 45mm
Max Aperture: F1.4
Field of view: 62.64°( diagonally)
Focusing: Manual
Focus Ring Throw: 140º
Minimal Focusing Distance: 0.4m
Aperture Range: f/1.4– F22
Aperture Control: By Aperture Ring
Number of diaphragm blades: 9 rounded blades
Lens construction: 11 elements arranged in 9 groups (1 ASP element)
Filter size: 77mm
Mount: FujiFilm G
Dimensions (width x length): 87 x 144mm
Weight: 1120 g
Weather-sealing: In 4 key areas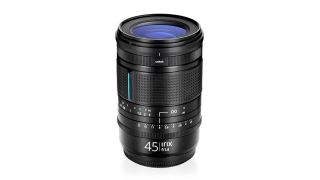 Irix 45mm f/1.4 Dragonfly key features
Apart from its amazing f/1.4 maximum aperture, the Irix 45mm f/1.4 Dragonfly has a number of other interesting features.
It has its own smooth (declicked) aperture ring ideal for videography, internal focus so that the length of the lens doesn't change during focusing, weather seals and a round 9-bladed diaphragm for smooth bokeh.
The 'Dragonfly' name comes from combining Irix's previous two lens styles – its 'Firefly' design for lightness and 'Blackstone' for durability.
Fujifilm has done a good job of filling out its medium format GFX lens range, but although the Fujinon GF lenses are extremely good, they are also (mostly) extremely expensive, so the arrival of third party alternatives is sure to grab the attention of GFX fans.
The only other independent lens maker to produce lenses for the GFX mount is Venus Optics, with its rather remarkable Laowa 17mm f/4 GFX Zero-D lens.
Pre-order the IRIX 45mm f/1.4 Dragonfly at Adorama (US + global)
Read more:
• Fujifilm GF lens roadmap
• Best Fujifilm cameras
• Fujifilm GFX100 review
• Fujifilm GFX 50R review
• Best medium format cameras