You might think the end of November isn't the best time to announce a new product with so much attention on the Black Friday camera deals, but that hasn't deterred Insta360 from proudly planting its feet in the action camera space. Twice, in fact, if you count the similar-looking, but differently specified, Insta360 Ace and Ace Pro cameras as separate.
Firstly, though, what keeps them the same: the unique shell with a 2.4-inch horizontally folding touchscreen, which seems to owe its inspiration to Insta360's own popular Go 2, but is a first in an action camera. It isn't just for vlogging – it means that, for example, when clipped onto the handlebars the monitor can be pointed up to the rider.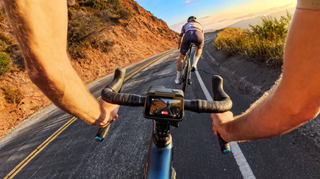 "With Insta360 Ace and Ace Pro, we're bringing smarter action capture to thrill-seekers around the world," shares JK Liu, founder of Insta360. "We're making significant steps in AI, which has allowed us to bring in new features that we think not only make the video creation process easier for users, but unlocks completely new ways to make shots truly stand out."
Key features include fast charging, 360-degree horizon lock, FlowState stabilization, waterproof even without housing, and 120fps 4K or 8K video capture.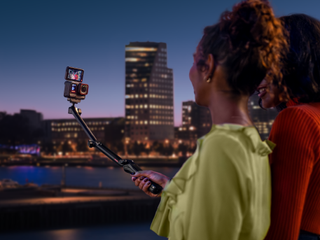 If you're thinking that the action camera is a niche which belongs to GoPro anyway, I'm not sure. When I spoke to the team at Insta360 in advance of the launch they noted not one but two serious players this camera puts under threat – GoPro and DJI. That's interesting because the Osmo Action 4 has already shown GoPro can be beaten on quality. The Ace Pro actually goes one better, not only boasting a 1/1.3-inch sensor but a wider f/2.6 aperture (the Action 4 is f/2.8).
Insta360 have also added a 5nm AI chip to assist processing with a feature called PureVideo which they say is custom-trained to denoise low-light footage in real time, even with image stabilization. The chip can handle stills up to 48MP, and signal-to-noise processing which is claimed "surpasses all other action cameras on the market." The Ace also boasts Active HDR at 4K 30fps and below, while the Active HDR is available on all Ace Pro modes.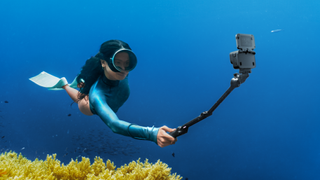 Processing also helps with features including 2x zoom, gesture control, and the simple but cunning ability to pause and resume shooting in the same video clip (saving the effort of editing later). If you do like editing, you get access to a lot of cool Insta360 AI features, including invisible selfie stick tech, and all videos can be re-framed after shooting.
While GPS isn't built in, there is an optional GPS Preview Remote (with built-in live view display) and you can use data from a Garmin device or Apple Watch so you might already be equipped.
The Insta360 Ace is on sale from today, and the prices are $379.99 / £359.99 / AU$609, while the Leica-boasting Ace Pro comes in at $449.99 / £429.99 / AU$729.
You can see our guide to the best action cameras here (you'll note that the best GoPro already misses the top spot).