Advent calendars are a fun way to count down to Christmas – and creating a personalised advent calendar with your own photos is a wonderful way to share memories with friends and loved ones.
You can order a photo advent calendar from Jessops from just £8.99, but you need to do it quickly – this is the last few days to place your order if it's going to arrive in time for the start of December!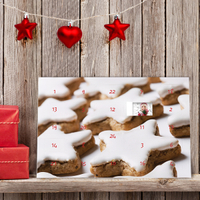 Photo advent calendar: from £8.99
Upload 24 of your favourite photos to enjoy a different memory every day up to Christmas Eve – where there is an extra-large door for your best picture! Pre-assembled and can be delivered direct to friends or family members.
UK deal
This year more than any other, it's nice to have things to look forward to. A personalised photo advent calendar is a wonderful way to count down the days to Christmas – or, if you'd rather, to count down the days until 2020 comes to an end!
Jessops' online creation tool enables you to easily pick and upload your 24 images to place behind each door. And Christmas Eve features an extra-large door, behind which you can place your very best image.
These pre-assembled calendars are 225 x 345mm in size and feature either a Christmas baubles or cinnamon stars design. They can be delivered to you, or sent directly to friends or family for gifting.
Read more:
The best photo gifts: Create a personalized photo gift
Create a photo calendar and make the perfect holiday gift for friends and family
How to create a photo book in 8 simple steps, to make a beautiful gift or keepsake
The best photo books: create a personalized picture album online