For anyone who doubts how good the Black Friday camera deals can be, check this out: Canon just slashed a thousand bucks off its flagship camera!
Right now the Canon EOS R3 is available for just $4,999 – an unprecedented saving on what is arguably the most advanced camera on the market!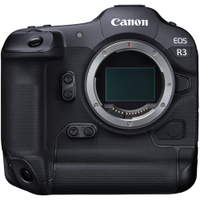 Canon EOS R3 | $5,999 | $4,999
SAVE $1,000 (B&H) With a 24.1MP stacked sensor, it can fire off 30fps bursts, 4K 120p video, and even 6K RAW 12-bit internal recording. Move the focus point by moving your eye, or with the super-fast Smart Controller joystick. Human and animal eye detection, 8 stops of IBIS… this camera has it all!
The Canon EOS R3 has some stiff competition from rival flagships, but this camera can do things that Sony and Nikon's finest can't even dream of. Its party piece is Eye Control AF, which uses infrared sensors in the electronic viewfinder to track the movement of your eyeball – enabling you to move your focus point by simply looking at the subject you want to focus on! And yes, it works (and yes, it works with glasses).
It also boasts incredible in-body image stabilization, offering up to 8 stops of compensation – more than any other full frame system, for rock-solid stills and gimbal-smooth video. Speaking of, you can capture JPEG+RAW bursts of up to 30fps, and capture video up to 6K 60p internal.
The new autofocus system is nothing short of a cheat code for wildlife photography, the stacked sensor all but eliminates rolling shutter, and the body is just as weather-sealed as Canon's rugged and reliable 1D X DSLRs.
I absolutely love this camera, and at this price there has never been a better time to buy one!
Take a look at the best Canon Black Friday deals or, to see the best of other brands, the best Sony Black Friday deals and the best Nikon Black Friday deals.