One of the biggest stories from the weekend was Google's announcement that it will be changing the way it deals with smartphone giant Huawei, following trade sanctions imposed on Chinese firms by the USA's Trump administration.
The order from the US government, with which Google is complying, means that Huawei will not be receiving Android updates, and will have to fall back on the version that's available through an open-source licence. In the future, assuming nothing changes, this will also likely mean that Google-owned apps such as Google Maps and YouTube will be unavailable on Huawei devices.
You may not have been aware that Honor is a Huawei-owned trademark, and that Honor camera phones will therefore also be affected by these developments. So what does this news mean for those who own a Honor smartphone, such as the recent 48-megapixel Honor View 20, or have been considering buying one?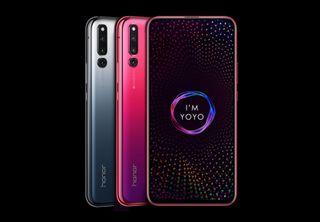 What this means for Honor smartphone owners
In the immediate short term, very little. Huawei has released a full statement which was also passed out by representatives from Honor, in full reading as follows:
"Huawei has made substantial contributions to the development and growth of Android around the world. As one of Android's key global partners, we have worked closely with their open-source platform to develop an ecosystem that has benefitted both users and the industry.
"Huawei will continue to provide security updates and after-sales services to all existing Huawei and Honor smartphone and tablet products, covering those that have been sold and that are still in stock globally.
"We will continue to build a safe and sustainable software ecosystem, in order to provide the best experience for all users globally."
Google has also chimed in with a similar sentiment: "For users of our services, Google Play and the security protections from Google Play Protect will continue to function on existing Huawei devices."
Honor 20 launch affected?
Current Honor smartphones (and soon-to-be-released ones, more on which in a moment) have gone through Google Play's certification process already, so this specific announcement shouldn't affect them at all, for now. Users will still be able to access the Google Play store and all the Google-owned apps therein.
This also presumably applies to devices that are scheduled for imminent release, and Honor has specifically informed us that the Honor 20 series launch scheduled for tomorrow (the 21st) is proceeding as planned.
So if you have or are imminently getting an Honor smartphone, you don't need to worry just yet. You'll still get access to regular Android features. However, you may later find yourself denied access to features that are specific to Android Q, the major update Google is currently working on and is due for general release later in the year.
Of course, some of this is just speculation, and we'll have to wait and see how things develop. It's possible the dispute could be resolved, or that Huawei-owned devices including Honor smartphones will get ported wholesale over to a Huawei operating system. We'll have to wait and see, but in the meantime, make sure you join us tomorrow for the Honor 20 series launch, where we'll be bringing you hands-on coverage of the new smartphones.
Read more:
Fancy a phone with six cameras? Then the Honor Magic 2 could be for you