There's no focal length more versatile than the 50mm, and there's not many lenses more stunningly sharp than the Canon RF 50mm f/1.2L USM lens. With a f/1.2 maximum aperture and a ring-type ultrasonic motor (USM), the Canon RF 50mm f/1.2L USM is a master at delivering beautiful images.
The RF 50mm f/1.2L lens is specifically designed for Canon's new RF mount, which is what both the Canon EOS R and the Canon EOS RP use. The Canon engineers who built the new RF mount have designed an optical system with a flange back distance of 20mm and a wide 54mm diameter lens mount, which enables faster and lighter lenses.
• Read more: Best Canon EOS R deals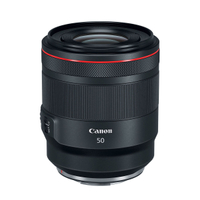 Canon RF 50mm f/1.2L USM: £1,879 from £2,199
Pick up the Canon RF 50mm f/1.2L USM for just £1,879 from £2,199 after £320 double cashback. This standard lens is perfect for portraiture, street, weddings and events - and is now available for a great reduced price (UK only)
This new mount allows Canon to progress their optical technology even further, which has delivered a super bright standard lens with fast and precise focusing. Built for professional use, the Canon RF 50mm f/1.2L USM is perfect for wedding, events, portrait and street photographers who need a fast piece of glass for their images.
Black Friday might only be weeks away, but this fantastic deal is ready to be snapped up right now.
Read more
Best Canon EOS RP deals
Best Canon lenses in 2019: go longer, wider and closer with your Canon camera
Best Canon camera in 2019: from DSLR to mirrorless to PowerShot and Ixus