Spring has sprung at last, and hopefully we'll all be springing from lockdown soon.
In the meantime, this issue's 'Shoot Spring' cover feature showcases a selection of ways to capture the magic of the new season while staying local to your home.
Remember that you can also buy Digital Camera online, or make great savings of up to 34% with a subscription.
Other highlights in Spring's Digital Camera
You'll find more top-drawer images and inspiration in Photo Active and Stay at Home, including the cream of the latest submissions to our reader gallery, while the RPS Science Photographer of the Year 2021 awards grace Hotshots.
And we chat to Tom Stoddart, as the fêted photojournalist publishes his new book 'Extraordinary Women: Images of Courage, Endurance and Defiance', in Pro in Focus.
Our Camera College series continues, with a masterclass on shooting creative landscapes.
Follow along with the tutorials then enter your best shot in the photo challenge, where one lucky reader can win a copy of Affinity Photo worth £23.99/$25.
And there are more treats for lovers of landscape photography in the Spring issue, as leading practitioner Jeremy Walker reveals what it takes to succeed in the genre, as we discuss his debut book in our interview.
This month's bonus digital gift is a pack of 15 water reflection effects, for adding realistic reflections in Photoshop CC. Our resident expert Jon Adams walks you through the process.
There are plenty of image editing tutorials to dive into this month, with more creative techniques for Photoshop, Lightroom and Camera Raw, and Photoshop Elements.
The Spring issue's camera reviews lead on the Fujifilm GFX 100S, which brings medium-format to the masses, and we also test the Canon RF 70-200mm f/4L IS USM. We also crown our best-buy photo printer, in the group test.
The latest issue of Digital Camera comes with an unrivaled selection of digital gifts
This issue's digital gifts include 15 water reflection effects for Photoshop; 65 minutes of bonus video tutorials covering Photoshop, Lightroom, Photoshop Elements and Affinity Photo; and a 258-page Camera Buyer's Guide ebook.
Here's the full line-up of the bonus gifts with issue 240:
Nine all-new photo tips cards on wildlife, creative, landscapes – and more!
15 water reflection effects for Photoshop CC
65 mins of video tutorials for editing in Affinity Photo, Photoshop and Lightroom
258-page Camera Buyer's Guide eBook packed full of buying advice
Image Transformation Pack: a curation of four effect kits for Photoshop CC
Subscribe now
Every issue of Digital Camera magazine is packed with tips, techniques, pro advice, reviews, news and inspiration.
To make sure of your copy every month, subscribe at our online shop from just £12.50!
You can buy limited back issues of Digital Camera magazine in print at our Magazines Direct secure store.
Alternatively, there is a range of different digital options available, including:
• Apple app (for iPad or iPhone)
• Zinio app (multi-platform app for desktop or smartphone)
• PocketMags (multi-platform app for desktop or smartphone)
• Readly (digital magazine subscription service)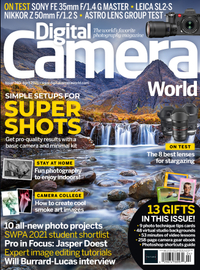 Digital Camera World is the world's favorite photography magazine. Every issue is packed with the latest news, reviews, tutorials, expert buying advice, tips and inspiring images. Plus, every issue comes with a selection of bonus gifts of interest to photographers of all abilities.