Cosina has announced that it is about to launch its fourth manual-focus prime lens for the Fujifilm X-mount range of mirrorless cameras. The Voigtländer ULTRON 27mm F2 gives an effective focal length of a 40mm standard lens, once the 1.5x crop factor of the Fujifilm APS-C sensors.
The traditional design of the Voiglander lenses are perfectly in keeping with the retro design used by many of the Fujifilm X-mount models. And the new 27mm f/2 is a particularly small prime that will appeal to those wanting to travel light. There is a choice of either a black or silver finish - to help you match the lens to the finish of your camera body.
Although the lens does not offer autofocus, it does provide electronic contacts to communicate with the camera body. We are told that "In addition to Exif information, focus check, and shooting distance linked display, certain models also support in-body image stabilization and parallax correction through the combination of a body that supports telecommunications and the latest firmware." Compatible models are the Fujifilm X-H2, X-H2s, X-T5, X-T4, X-T3, X-T2, X-Pro3, X-H1, X-T30 II, X-T30, and X-E4 (see Cosina website for firmware requirements)
The lens boasts a traditional depth of field scale - suitable for calculating the hyperfocal distance - and benefits from having ten diaphragm blades, which promises great looking bokeh. The lens offers one-third stop aperture clicks from f/2 down to f/22.
Other Voigtlander Fujifilm-fit lenses available, following their launch last year, are the NOKTON 23mm F1.2 Aspherical, NOKTON 35mm F1.2, and MACRO APO-ULTRON 35mm F2.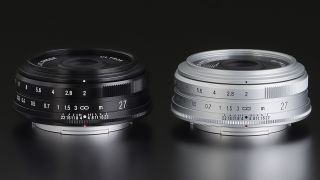 Specifications
Mount: Fujilm X
Full frame: No
Autofocus: No
Image stabilization: No
Lens construction: 6 elements in 4 groups
Angle of view: 53.7°
Diaphragm blades: 10
Minimum aperture: f/22
Minimum focusing distance: 0.25m
Maximum magnification ratio: 1:6.7
Filter size: 43mm
Dimensions: 59.3×23.5mm
Weight: 120g
Pricing and availability
Voigtländer ULTRON 27mm F2 X-mount will go on sale in June and is expected to sell for ¥73,000 (around $540 / £430). The lens is supplied with a dedicated dome-shaped screw-in lens hood (although this is black, even if you choose the silver-finish version of the lens).
See also our guide to the best Fujifilm lenses, and our pick of the best Fujifilm cameras.