Frozen 2 is the festive season's must-see movie and if you've scoured the remaining Cyber Monday camera deals and are still wondering what to get the fairytale fanatic in your life, Fujifilm has got you covered. The Frozen 2 instax Mini 9 might just be the coolest instant camera yet and is a fun way to record special moments like building a snowman, petting a reindeer and photographing a fixer upper.
This special edition instax Mini 9 features a chilly blue paint job and is adorned with plenty of Frozen 2-themed illustrations. On the front you'll find a white Frozen 2 logo, and a small duotone image of Elsa and a very mysterious-looking horse.
The Frozen 2 instax Mini 9 instant camera is priced at $79.95 and is available at B&H.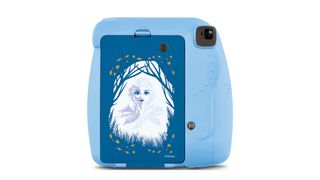 The back features a large montage of Elsa, which covers the entire film door. If that wasn't enough, the camera strap gets the Frozen treatment too and is adorned with a snowflake pattern. Beyond the fairytale charm you're left with an easy-to-use and compact instant camera. This is an instax Mini 9 after all and so the device features a Fujinon 60mm f/12.7 lens, optical viewfinder and selfie mirror.
If you're really not afraid to let it go, Fujifilm instax Mini Frozen 2 Instant Film (10 Exposures) is also available. These rather snazzy sheets of instant film sport special Frozen-themed borders, and cost around $17.99.
Nobody needs to feel left out this Christmas though, because limited edition instant cameras are certainly en vogue. Fujifilm has released Star Wars and Toy Story 4 special edition instax Mini 9 cameras, and if the Upside Down means anything to you, the Stranger Things OneStep 2 from Polaroid Originals might be of interest too.
Read more:
Best instant cameras in 2019