What better way to celebrate Star Wars Day than with a Star Wars instax camera! The conclusion of the Skywalker Saga may have been divisive, but there's there can be no denying that the Fujifilm instax Mini 9 is one of the best instant cameras – and with all-time favorite R2-D2, plus newcomers BB-8 and D-O, it's undeniably charming.
It also features blue accents on the lens, lens release and shutter button, after the Lightsaber color favored by Obi-Wan Kenobi and Anakin Skywalker.
• Make your own Lightsaber in Photoshop
The Star Wars instax camera is usually only available in North America, though you can always order it at B&H and take advantage of worldwide shipping if you live outside the USA: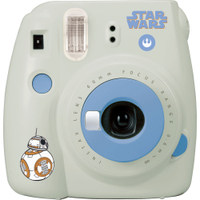 Star Wars instax Mini 9: $74.01 (was $79.99)
This special edition instax Mini 9 features blue accents reminiscent of Obi-Wan's Lightsaber, and boasts decals of R2-D2, BB-8 and D-O that is sure to delight Padawans! (Ships worldwide)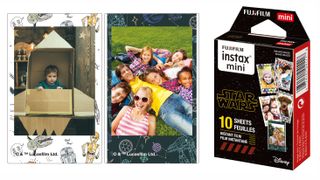 Of course, you can also pick up a pack of Star Wars-inspired instax Mini film. Each of the ten prints has one of five different borders, to surround your images with designs and illustrations of key characters from the Empire and the Resistance. The film pack can be used in any instant camera that uses instax Mini film.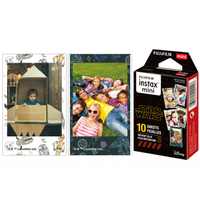 Star Wars instax Mini film: $17.99
Complete your Jedi training by adding a pack of Star Wars instax Mini film to your camera, with unique designs featuring Star Wars logos, patterns, and characters. (Ships worldwide)
Read more:
Best instant cameras in 2020
Cheap Instax film deals
Best portable printers for photos