DxO DeepPRIME is an advanced process which combines raw image demosaicing and denoising into a single 'holistic' process rather than treating them separately. It goes another step further than DxO's previous denoising process, PRIME, which was already in a class of its own for noise reduction. It promises to transform noisy high ISO images and deliver a level of image quality not seen before.
It's not the first time companies have made this kind of promise, but past experience of DxO's PRIME denoise system and our early experiments with the new DeepPRIME process do back up DxO's claims.
The company cheerfully admits that its software (PhotoLab itself, not just DeepPRIME) brings the biggest benefits with the least impressive equipment. If you have the best cameras and lenses and shoot at low ISOs, you might not see big differences. But if, like most photographers, you have average cameras and lenses and often have to shoot in non-ideal conditions, DxO's image processing and lens corrections can transform your results.
DxO DeepPRIME and how it works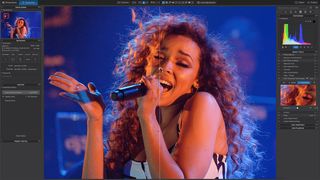 DeepPRIME works best with raw files shot at high ISO settings and photos taken with small sensor cameras with small photosites. DxO says it is especially effective for photos taken in low light, especially those which need brightening, and images taken on older, previous generation cameras. Claiming better color details and more natural transitions, the company says DeepPRIME offers a gain of two ISO steps for the same levels of image quality.
The only downside of this high-powered processing is that the results can only be previewed in a small window and images must be processed and exported as JPEG or TIFF files.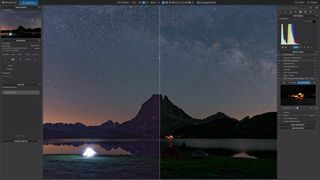 Image processing and correction is a DxO speciality. As well as publishing DxO PhotoLab it has added the Nik Collection to its software portfolio and its sister company, DxOMark, is widely recognised for its camera, lens and phone benchmarking.
DxO PhotoLab combines raw processing with automatic lens corrections, image editing and powerful local adjustment tools. It also integrates with the Nik Collection and DxO's ViewPoint and FilmPack apps (all sold separately).
DeepPRIME is the key new feature in DxO PhotoLab 4, but there are other additions and enhancements too.
The DxO Smart Workspace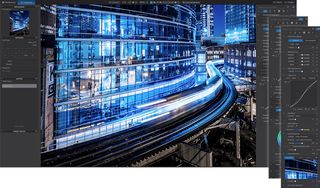 PhotoLab is a powerful but technical program, and DxO has made some modifications to the interface and workflow for this version. Its Smart Workspace now organises its tools into palettes based around correction types, it can be configured to show the user's favourite palettes and it can also be set up to show only those palettes containing active corrections – this is especially useful if you use the preset effects.
Lastly, there's now a search tool for, well, tools. This is useful if you know there is a palette for a particular task but you don't want to go digging through the rest of the palettes to find it (or you can't remember which palette it's in).
New batch renaming feature
Batch renaming is a useful feature to have. The filenames assigned to photos by your camera are not always useful or meaningful and may even be duplicated already on your computer.
The batch renaming feature is found in PhotoLab's Photo Library window, and offers a range of options, including the ability to replace names, add text before or after existing names, renumber files and even search and replace text strings in filenames – like Adobe Bridge's String Substitution feature.
DxO Advanced History
PhotoLab is a non-destructive editor so it can modify or remove past adjustments at any time, and now it has a new History palette which doesn't just list all the editing changes, but their values too. It can also 'group' adjustments, such as those made by presets.
PhotoLab 4 also makes it easier to copy settings from one image to another, as you can now do this selectively, choosing just those settings you want to apply, such as lighting, color, detail, geometry or local adjustments.
DxO Instant Watermarking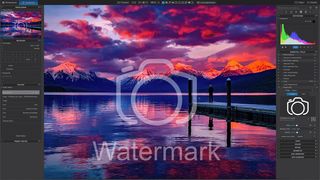 Watermarking images works both as a marketing tool and a deterrent against image theft online, and PhotoLab 4's new watermarking tool is highly sophisticated.
You can use text or image watermarks and even combine them. You can set the watermark placement, orientation, scale, margins and opacity, and even change the blend mode, all the while with an on-screen preview of the finished effect.
New camera support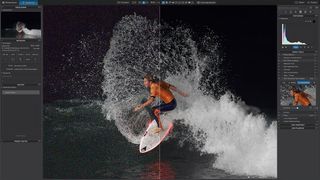 Finally, PhotoLab 4 adds support for a number of new cameras, including the Canon EOS R5, Canon EOS 850D (Rebel T8i), Nikon D6, Nikon Z5, Olympus OM-D E-M10 IV and Panasonic Lumix S5.
DxO PhotoLab 4 price and availability
PhotoLab 4 comes in two editions. The Essential edition is the cheapest at a special launch price of $99.99/£86.99 until November 19 (normally $129/£112) and can be installed on two computers.
To get the full range of features, however, including DxO DeepPRIME, watermarking and batch renaming, you'll need the Elite edition, which costs $149.99/£129.99 until November 19 (normally $199/£169) and can be installed on up to three computers. Upgrade options are available for existing users and, as DxO points out, PhotoLab 4 is available without a subscription.
Read more:
• Best photo editing software
• Best photo editing laptops
• Best monitors for photo editing
• DxO Nik Collection 3 review