Canon has submitted a Patent Application for a stereoscopic camera lens, which appears as if it could be designed for use with a mirrorless camera. Looking at the basic design, as discovered by Canon News, it seems likely that the optic would be specifically for use with full frame mirrorless camera models, which rather than being a functional choice may be more of a practical one.
The unit would make use of two optical systems side-by-side, which would mean a larger sensor size than APS-C would be required to enable full coverage of the combined angle of view.
According to Canon, the reason for this Patent Application is that the proposed design offers a unique combination of functionality and practical workability. If the distance between the lenses is small and if the angle of the view of each lens is narrow, the stereoscopic effect is lessened. Meanwhile increasing this separation and employing a wider angle of view for each lens starts to introduce problems with comfort of handling, when the lens is mounted directly to a camera body.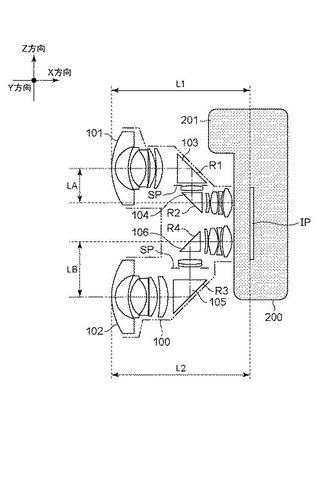 Canon states: "In the lens device, since the angle of view of the optical system is relatively narrow and the distance (baseline length) between the optical axes of the two optical systems is short, the realism of the obtained stereoscopic image is not sufficient. On the other hand, in the imaging apparatus described in Patent Document 1, when the two optical systems try to increase the base length with a wide angle of view, lens apparatus is enlarged. In this case, when the lens device is attached to the main body of the imaging device, the grip performance (easiness to hold) may be affected."
Through the proposed design Patent there will be an appropriate compromise between these requirements. "It is an object of the present invention to provide a lens device that enables stereoscopic photography and does not impair ease of holding" says Canon.
Each of the two lenses has these specifications:
Focal length 5.57
F number 2.8
Half angle of view 90.00°
Image height 8.75
Total lens length 96.00
BF 13.50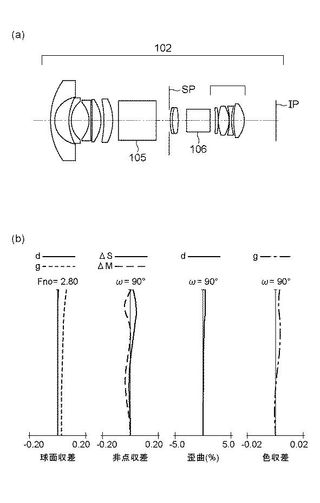 The description of the lens states that "The lens device of the present invention has 2 optical systems...capable of forming 2 images by the 2 optical systems on one imaging element." It goes on to explain that the proposed design ticks both boxes for handling and optical needs - "According to the present invention, it is possible to realize a lens device which is capable of stereoscopic photographing and does not impair easiness of holding."
Read more
5 hottest new lenses according to Amazon
Is a Canon RF 24-70mm f/4 L on the way?
The 8 fastest lenses in 2020 – break the speed limit with glass as fast as f/0.75