Lenses with super-fast apertures are becoming more and more commonplace, with new f/0.95 and f/1.0 glass available for every popular mount. These optics are incredibly desirable, but the question is: do you actually need a super-fast lens or do you just want one?
We've seen all manner of ultra-fast glass released this year. From the premium $9,000 Nikkor Z 58mm f/0.95 Noct for Nikon's Z-mount cameras to the Mitakon Speedmaster 50mm f/0.95 for mirrorless and DSLRs to the Fujinon XF 50mm f/1.0 WR, the fastest autofocus lens on the market today, there are all manner of options.
That's not even counting "slower" lenses like the Canon RF 50mm f/1.2L USM and Canon RF 85mm f/1.2L USM, and Olympus' series of super-fast 17mm, 25,, and 45mm f/1.2 Pro lenses. And more are coming all the time; 7Artisans has just announced a 35mm f/0.95 lens for Micro Four Thirds and Canon, Sony and Nikon APS-C cameras, while TTartisan has a new 50mm f/0.95 lens for the Leica M-mount.
All this fast glass is incredibly desirable – and the the best ones (usually made by Canon or Nikon) are also incredibly expensive. So before you whack out your credit card, you need to ask the question: does your photography actually require a super-fast lens, or do you just have GAS – gear acquisition syndrome?
The Phoblographer has created a flowchart to quickly check whether or not you need to raid the piggy bank (thanks to 43 Rumors for the heads up):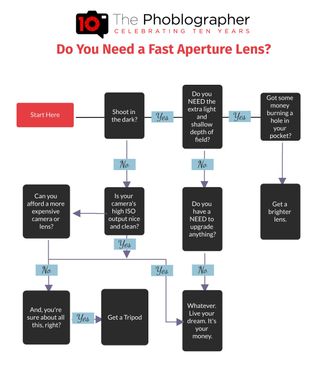 The chart is quite tongue-in-cheek, but it does ask some very salient questions. After all, GAS is something that all photographers are afflicted by sooner or later – and there are few things more alluring than an f/1.2 or faster aperture!
Of course, there are some areas of photography that genuinely require or benefit from having the fastest glass possible. Astrophotography is an obvious one, as the faster your lens the shorter your shutter speed and/or lower your ISO can be (for cleaner images and the reduction of unwanted star movement).
Low light is the common theme, as photographers who cover concerts and live performances, as well as those who shoot weddings and events in venues with poor lighting conditions, see tangible benefits from faster glass. For the rest of us… well, we usually just want a slightly blurrier background or to be able to show off at the camera club.
So take the above test and see if you really need a super-fast lens, or whether you need a good tripod. And when you get your answer, you can merrily ignore it and buy that lens you've been lusting over anyway!
Read more:
The 8 fastest lenses in 2020 – break the speed limit with glass as fast as f/0.75
Nikkor Z 58mm f/0.95 Noct review
Mitakon Speedmaster 50mm f/0.95 review
Fujinon XF 50mm f/1.0 WR review
Canon RF 50mm f/1.2L USM review
Canon RF 85mm f/1.2L USM review