Canon has announced today that it is working on a robotic pan/tilt support that is designed to be used by professional sports photographers using DSLRs and mirrorless cameras.
The motorized head looks similar in design to the PTZ (pan-tilt-zoom) cameras that are used for CCTV and in broadcast studios - except that here the photographer uses his or her own EOS camera and lens to get the shot.
Professional sports photographers frequently use multiple cameras at big sporting events (such as the Super Bowl, or an Olympics track final) – but with a fixed position that must be set up in advance of the event. This motorized options gives the photographer the ability to change camera angle whilst the action unfolds.
The solution currently under development, Canon tells us, is based on a centered system in which the camera's optical axis is perpendicular to the axis of rotation of the unit, providing a similar shooting experience as is usual with traditional camera handling. The picture of the prototype clearly shows the device in use with a Canon telelphoto zoom.
The unit can also be mounted horizontally (on a tripod say, or suspended from a gantry), or mounted vertically on a wall (such as on stand scaffolding).
The motorized head could also be used for video use – giving a second camera that could be used for TV production or vlogging.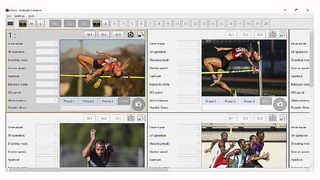 Canon is working on an accompanying remote control application that allows the photographer to control multiple cameras in the way, and download the images to their laptop.
We do not know when this device will come to market, but with the Olympics in Tokyo less than a year away, and with camera rumors of the Canon EOS-1 D X Mark III and Canon EOS Rx professional sports cameras in development, it could be an exciting 2020 for Canon action shooters.
Read more:
Camera rumors 2019: what new cameras are coming out this year?
The best gimbal heads for tripods