When the Canon EOS R was revealed, the first thing many people noticed was its lack of in-body image stabilisation (IBIS).
The missing feature became even more pronounced at Photokina 2018 with all the new cameras boasting IBIS – including Fuji's new GFX 100S with its monster medium format sensor.
So, with the internet rife with cynicism and speculation, we went straight to the horse's mouth and asked Canon why it opted not to include in-body stabilisation on the EOS R.
"We feel that in-lens IS is the optimum system for image stabilisation," explained Canon UK's product intelligence consultant, David Parry.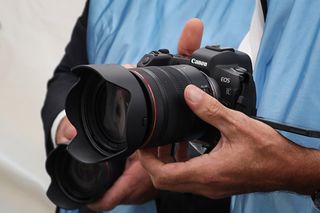 "With an in-body IS system you are creating something that needs to work over lots of different types of lenses and different lens groups, so you don't get a dedicated system for that particular lens.
"All lenses move in different ways, and you get different types of shake depending on what kind of lens you're using, so dedicating the IS system to the particular lens is, for us, the optimum way of doing it – but that's not to say that we aren't looking at in-body IS."
It's fair to say that Canon traditionally takes its time and is rarely the first to bring a feature to market, from touchscreens to shooting video on DSLRs. When it eventually does bring something to market, though, it tends to be among the best in class. In other words, then, Canon will introduce in-body stabilisation when it's good and ready.
Read more: