Money is tight for everyone right now, so buying a new camera might be difficult. However, if you've been keen on picking up an entry-level APS-C model, Canon's remarkably capable EOS R7 and EOS R10 are discounted right now for Amazon's Mid-Year Sale.
Both cameras come with a lens bundled, in this case the RF 16mm f/2.8 wide-angle prime that retails for AU$489 in Australia. It's a good place to start building out your Canon kit, and you can add more lenses as you get on.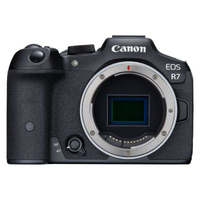 Canon EOS R7 + RF 16mm f/2.8 | AU$2,799.95 AU$1,999 on Amazon with cashback (save AU$800.95)
Having launched with an RRP of AU$2,349 last year, the EOD R7 now retails for a couple of hundred dollars less. So, for a little less than the price of the body alone, you're getting an excellent wide-angle prime. As for the camera, it's well worth every penny – you get a 32.5MP sensor, 4K/60p video capture (4K/30p oversampled from 7K), a max 30fps burst speed and impressive AF performance. Head over to Canon's promotions page to redeem an additional AU$100 in cashback savings.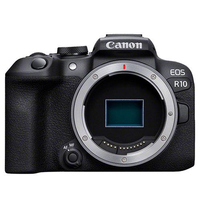 Canon EOS R10 + RF 16mm f/2.8 | AU$1,894.30 AU$1,450 on Amazon with cashback (save AU$444.30)
This compact and lightweight mirrorless features a 24.2MP APS-C sized sensor, and it can capture photos at up to 15fps with its mechanical shutter or up to 23fps with a silent electronic shutter. Video can also be recorded between high quality 4K/30p video from oversampled 6K or fluid 4K/60p. It's a lot of camera for not a lot of money. You can save an additional AU$50 via Canon's cashback offer too.
If you're not too fussed about sensor size, but are looking for an affordable mirrorless camera that offers some serious pro-level grunt, then you should definitely consider the EOS R7, particularly at this discounted price point.
It's an advanced 32.5 megapixel APS-C format mirrorless camera aimed at enthusiast photographers who want to up their creative game. As a hybrid camera, the EOS R7 offers superb-quality 4K/30p video oversampled from 7K, and a silky-smooth 4K/60p mode as well... and it's uncropped too!
Its in-body image stabiliser works with a lens's optical IS for video and stills capture at shutter speeds 7 stops longer than usual. Hybrid shooters will also love the deep-learning Dual Pixel CMOS AF II that tracks subjects and keeps them sharp. With its incredible speed, this camera is great for sports and wildlife photographers or those seeking to get into 4K video. In fact, its autofocus DNA comes from the more expensive models such as the EOS R3, EOS R5 and EOS R6.
Heck, it will even outshoot the R5 and R6, thanks to its maximum continuous shooting speed of 30fps.
And it's wrapped up in a compact and lightweight body with the RF-S lens designed to compliment that size package.
The spec sheet just speaks for itself. We anticipate that demand will be high for this camera, so now is the time to put your money down and get your name on the list.
If you don't need the kind of burst speed the R7 offers, the R10 can save you little money. Its sensor has a lower resolution (24.2MP) in comparison, but its image quality and video capabilities are on par with its more expensive sibling.
Either will make an excellent starting point for anyone looking to improve their photography skills.
Read more:
7 reasons to buy the Canon EOS R7
What are Canon RF-S lenses?
Best Canon cameras
Best Canon lenses