The much-publicized Canon EOS R5 overheating issue has been solved at last – though the solution will cost you $400 and will almost certainly invalidate your official warranty from Canon.
A modification to the Canon EOS R5's heatsink system has been devised by Kolari Vision, a camera modding and lens filter specialist. It claims that the revised heatsink can almost double the camera's 8K shooting time before overheating, and triple its post-cooldown shooting time.
• Read more: Canon EOS R5 vs Canon EOS R6
"We tested the modified camera at 8K-D IPB 30FPS at 59F (15C) and 69F (20C)," writes Kolari. "At 15C, the R5 never overheated in our hands. At 20C, where the stock camera last around 25 minutes, after our mod the camera lasts 44 minutes, almost two times the initial shooting duration.
"What's even more important, is that the camera recovered a lot faster after it did overheat, giving more shooting time after a short recovery. With the stock camera, we could only get about 8 minutes of additional shooting after a 5 minute recovery, where the mod was able to shoot 25 minutes after the same 5 minute recovery, a 3 times faster overheating recovery."
So how does the mod work? Essentially, it's a completely re-engineered version of the inefficient heatsink system designed by Canon that caused the overheating problem in the first place.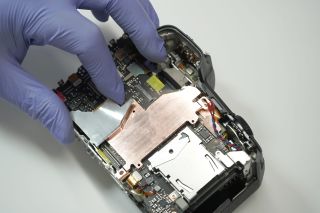 "In several thermal analyses of the camera, the processor on the motherboard seemed to generate most of the heat. In the stock design, Canon places two thermal pads partially over the processor and pumps the heat into a small heatsink. That heatsink however sits under another board and does not vent heat anywhere further.
"To remedy this problem, we took an R5 apart and designed a new heatsink to vent the heat from the processor to the camera case where it could dissipate faster. We tested aluminum initially, but eventually settled on a thick copper heatsink to transfer heat more efficiently.
"This design draws heat out of the processor and brings it around the motherboard and out to the rear case where it transfers heat through a high efficiency thermal pad. This design is fully internal to the camera and maintains the weather sealing of the camera."
Surely, a similar mod could be performed to the Canon EOS R6 to remedy the similar overheating issues experienced by that camera – though this isn't something that the company is yet offering.
The R5 modification is available from Kolari Vision for $399.99 (approximately £287.47 / AU$532.07), but please be advised that you modify your camera at your own risk – your Canon warranty will almost certainly be voided by such modification, and we can accept no responsibility if your camera is damaged by the procedure.
Read more:
Canon EOS R5 review
Canon EOS R6 review
Best Canon RF lenses
Best Canon cameras