In welcome news for videographers on a budget, Atomos have announced a permanent price reduction on their Shinobi and Shinobi SDI 4K HDR on-camera monitors.
The Shinobi monitor will be available from $299 (reduced from $399), while the Shinobi SDI has been reduced to $429 from $499.
Read more: Best 4K cameras
The Shinobi monitor is a high brightness 1000nut HDMI monitor that's designed for vloggers, creatives and photographers. Supporting 4K output, it features a 'run all day' single battery, HDR capability and a selfie Mirror Mode for vloggers. Weighing in at just 200g, Atomos describes Shinobi as one of the lightest 4K monitors on the market.
Atomos Shinobi 4K Monitor: $299 from $399
Save $100 on this 5-inch 4K monitor and take your videography to the next level. With anti-reflective coating and anti-fingerprint technology, this screen will help you capture the best footage possible. (US only)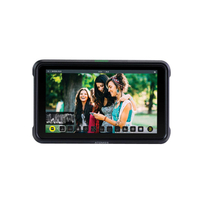 Atomos Shinobi SDI 4K Monitor: $429 from $499
The Atomos Shinobi is a lightweight HDR field monitor for videographers who need both HDMI and SDI camera connectivity. The Shinobi SDI is designed to be the ultimate monitor without breaking the bank (US deal)
The screen also has anti-fingerprint technology to help keep your view of your footage as crystal clear as possible. In addition, Shinobi includes monitoring tools for focus, framing and exposure to ensure you're able to get the best shot possible.
Jeremy Young, Atomos Co-founder and CEO, says, "The Shinobi line has been our highest selling monitor ever, the volume into the booming social media video segment has been astounding. This has enabled us to increase volume production and as always, we pass on the cost savings to our loyal customers. $299 for the advanced 5" 4K HDR Shinobi continues Atomos' drive to democratize cinematic style video production for the masses."
With reductions on two amazing products, we're sure both the Shinobi and the Shinobi SDI are about to fly off the shelves.
Read more
The best on-camera monitors
Best video tripods in 2019: 10 stellar supports for smoother pans
Best video editing software for vloggers and filmmakers
Best laptop for video editing