The first lens to arrive, according to Photo Rumors, is an X-mount version of the Voigtländer NOKTON 35mm f/1.2, a super-fast prime lens which would be equivalent to a 50mm lens on APS-C format Fujifilm cameras.
Voigtländer is one of the oldest and most respected names in camera history and now part of the Japanese Cosina group. It was one of the last companies to make film based 'Bessa' rangefinder film cameras, and while these are now longer made, the Voigtländer lens range is still very much alive.
The new NOKTON 35mm f/1.2 might sound like an adaptation of the existing Voigtlander Nokton 35mm f/1.2 Leica M mount lens, but the first pictures show a very different, more compact and modern-looking design, and commenters have suggested that this may in fact be an APS-C format lens and not simply an existing full frame lens repackaged for a new mount.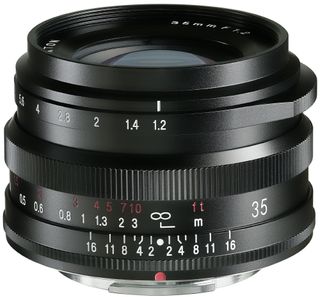 The size of the lens in the photo certainly suggests an APS-C format optic – the full frame Nokton 35mm f/1.2 is considerably larger.
We have no more details about this lens at the moment, but Voigtländer lens are manual focus, so we would expect this to be an MF lens too.
Manual focus lenses might sound like an anachronism in a world of autofocus, but they have enjoyed a resurgence thanks to mirrorless cameras. Manual focusing on a digital display is now far more accurate than every it was with optical viewfinders, and some MF lenses like the recently-reviewed Laowa 10mm f/2 now have on-board chips to communicate with the camera electronically and trigger its focus zoom feature the moment you turn the focus ring on the lens.
We don't know if the rumored Voigtlander NOKTON 35mm f/1.2 X-mount lens will have such a feature, but Photo Rumors does report Nokishita's claim that it will cost 76,800 yen (around $700) and will start shipping in August 2021.
Read more:
• Best Fujifilm lenses
• Best lenses for bokeh
• Best low light cameras
• Getting the best out of your Fujifilm camera
• Fujifilm X-E3: Specs, release date and price