Leading fashion and portrait photographer Lindsay Adler was named Rangefinder's Icon of the Year last week.
New York-based Lindsay is the first woman to receive this award, which was made during Rangefinder's WPPI 2020, the Wedding & Portrait Photography International conference held annually in Las Vegas.
Collecting her award from Editor-in-Chief Jacqueline Tobin on stage at the Mandalay Bay Convention Center, Lindsay said it was a complete surprise.
"I had absolutely no idea I would be receiving this award," she said. "I love my photo community, but had no idea I would be honored in this way."
Icon of the Year is conferred by Rangefinder on a highly creative individual with an extraordinary talent – one who is also a problem solver, an educator, an influencer, and a role model, and who can continue to evolve and redefine themselves without losing their core values.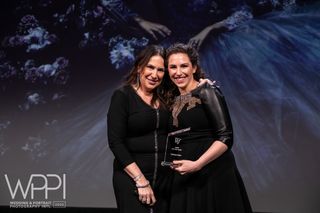 And Lindsay certainly meets all these requirements. In a career spanning almost two decades, she has shot fashion editorials, campaigns, portraits and fine-art nudes for a variety of top international brands.
She has also authored five books on photography, runs online learning website Learn with Lindsay, and was a headline speaker at The Photography Show 2019 in Birmingham, UK.
Asked by Jacqueline Tobin what being an icon of photography means to her, Lindsay said: "Photography is my life, and to be recognized by the industry in this way is somewhat surreal.
"I'm proud of the life I've been able to build for myself, and it is in no small part thanks to my passion for photography and this wonderful photographic industry that I'm honored to be a part of.
"My love of creating and sharing are probably the two more defining factors in my life."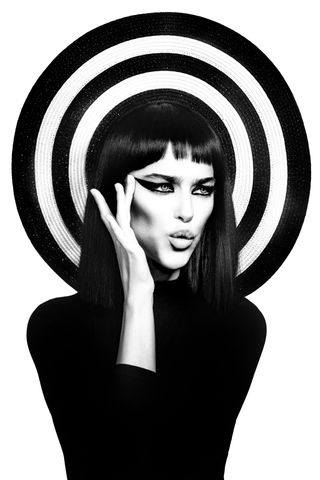 Lindsay may be a super-successful photographer, but in this article we posted about her last year, she shares many learnings from her career, and how she's bounced back from various setbacks along the way.
You can also discover how refreshingly down to earth Lindsay is when approaching the creative side of her photo shoots.
For example, she relishes sourcing inexpensive items from the internet and transforming them into sophisticated-looking props at the centerpiece of her bold and graphic photo shoots, where she favors extremes – super-saturated colour or high-contrast black and white.
Giving something back is a priority for Lindsay, as she told Jacqueline Tobin: "Others have encouraged me, educated me, inspired me and supported my success – now I aim to do the same for others."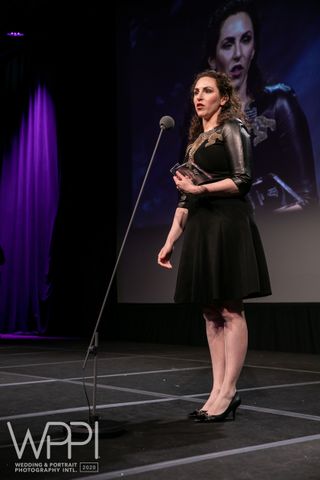 As well as receiving the Icon of the Year award, the other highlight of the WPPI event for Lindsday was speaking on the Canon Stage as a Canon Explorer of Light.
This is a program of leading professional photographers who are leaders in their respective genres.
"I've been attending photography trade shows since I was a teenager," Lindsay said.
"Year after year, I would sit in the audience at the Canon booth, eager to absorb as much information I could from the Explorers of Light on stage.
"Now, as I educate as a Canon Explorer of Light myself, I take my job to educate and inspire very seriously."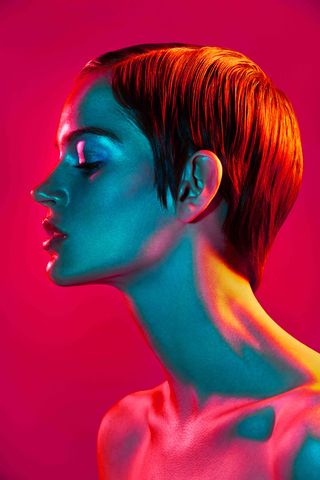 Getting Lindsay to the event without suspecting wasn't as easy as it seems, though. Rangefinder's WPPI and Photo Group Content Director Arlene Evans had to indulge in a little subterfuge with Lindsay's boyfriend, photographer Chris Knight, and Lindsay's mother to ensure that Lindsay would attend the ceremony.
But it worked, and Lindsay was crowned the first female photographer to win Rangefinder's Icon of the Year award – and just before International Women's Day, too. Click here to celebrate International Women's Day with these female photographers.
It's a great award for Lindsay to take into a year that's looking as busy as ever for her.
"I am currently writing my sixth book, on fine-art nude photography, and am also in the early stages of putting together a tutorial on color grading," she told Jaqueline.
"I just launched posing cards to help photographers as references on their shoots. I am always working on something, and sharing my knowledge with other photographers. It's what keeps me creative, motivated and energized year after year."
WPPI 2021 takes place on 7-11 March, 2021 at The Mirage, Las Vegas, NV.
Read more
Five quick questions with Lindsay Adler