The Affinity Photo 1.7 update concentrates on speed, power and some new editing features to tempt photographers away from Photoshop. It's a lot cheaper than Photoshop, with a single low-cost one-off payment rather than a subscription, yet it's designed for the same high-end professional/expert photography and illustration market and matches or beats Photoshop in many key areas.
Already one of the best photo-editing programs on the market, Affinity Photo 1.7 is clearly going all-out for speed and performance, but with improvements in raw processing too.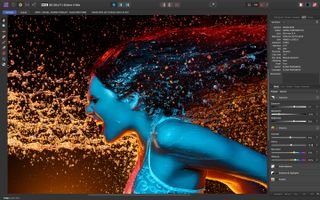 Faster, faster
It's the Mac version of Affinity Photo 1.7 that gets the biggest speed increase, with GPU computer acceleration, a new memory management system and end-to-end Metal computer acceleration via the Mac's GPU system.
Affinity says raster (bitmap) layer and brush operations are now up to 10x faster, and Affinity Photo 1.7 now supports multiple GPUs, both internal and externally connected.
The Windows version doesn't get hardware acceleration yet as Affinity is still working on this and will roll it out in a future version, but a rewritten memory management system will still give a claimed 3x or 4x speed increase for many tasks on Windows computer.
Affinity has also upgraded the support for Dial and Pen devices for Microsoft Surface devices
Even the iPad version gets an update. Affinity Photo for iPad, amazingly, offers pretty well all the tools of the desktop version, and version 1.7 has performance optimisations and a new 'refreshed' and more compact user interface so that there's more room for your images. Affinity is aiming for the 'ultimate experience' on the new 7.9-inch iPad mini with its support for the Apple Pencil.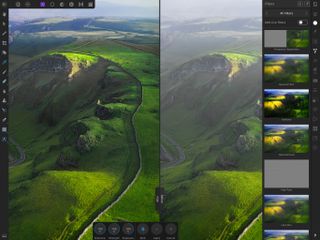 HDR monitors, better raw processing and more
Affinity Photo 1.7 now supports the latest HDR monitors, like the new Apple Pro Display XDR, which Affinity says is important for raw editing and developing – it should allow users to see new levels of detail in extremely dark areas, for example.
Raw developing is a key area for serious photographers and pros, and Affinity has made a number of improvements here. It's claiming faster loading of files, a new demosaicing algorithm, more effective noise reduction, hot pixel removal and 'wide colour space development'.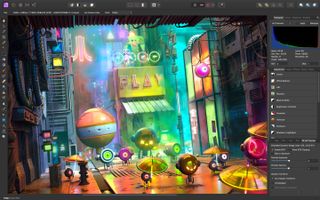 Other improvements in Affinity Photo 1.7 include improved batch processing, a completely overhauled Layers panel and (for designers and illustrators) a new Assets panel for commonly used elements and a rewritten brush engine with new multi-brushes, a symmetry mode (up to 32-way) and on-the-fly nozzle rotation.
Affinity Photo 1.7 is available now from the Affinity website at an introductory price of £38.99/$39.99 (usually £48.99/$49.99) for the Mac and Windows versions, and £15.99 (usually £19.99) for the iPad version.
Read more:
• The best iPads for photo editing and video editing
•ª The best tablets for photo editing
• The best photo-editing software you can get right now
• Tight on cash? These are the best free photo editors today
• These are the best laptops for photo editing right now