Whether you're a street photographer or work within a studio, there's one key ingredient you need to have for great people photography. And ProPhoto's unmissable latest issue delves deep into a concept called R.E.S.P.E.C.T.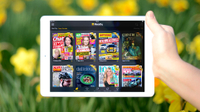 INSIDE THE NEW ISSUE
Michael Coyne on the vital ingredient for photographing people
Award-winning photojournalist Michael Coyne has photographed people all over the world and often in challenging situations. He explains why always having respect for your subjects – and treating them with dignity – is the key to great people photography.
Fujifilm X-T4 review
On paper, there's a lot packed into a small form factor, but how does the X-T4 perform in practice? ProPhoto editor Paul Burrows takes it for a test drive to find out whether it's the best reason yet for thinking small.
Plus lots more
Photography doesn't always have to be in focus, and no one explores the of "hints and blurs" better than Stuart Spence in his new book called YIELD. Also, find out why the Sony A7S III is a purist's hybrid and how a 4K monitor designed for graphic artists can be just as good for photographers... at a cheaper price.
Subscribe to the print edition
Published continuously since 1937, ProPhoto is Australia's top magazine for professional photographers, emerging artists and students of photography. The magazine is published bi-monthly, with print subscriptions available from Future Australia's dedicated Techmags website.


Get the digital edition today!
ProPhoto's print edition is available to buy from all good newsagents across Australia, but you don't need to leave your house to get a copy. You can download the magazine in digital format from Zinio right now for the ultimate in convenience.
To maximise your savings, you can opt for an annual subcription, which gets you six issues over 12 months that you'll automatically receive on your PC, phone or tablet as soon as each new issue is released. Or you can opt to purchase a single issue of ProPhoto if you prefer.
For more details, simply click on the image below.